Meet the new SBT at SRHS
Shadow Ridge High School just hired a new Site Based Technician (also known as a SBT), Nate Smith.  This position has a lot of responsibilities, all o,f which Mr. Smith is ready to tackle.   Some of these responsibilities are providing technical support to users related to client hardware and software.  The SBT also troubleshoots, repairs or replaces client hardware including, but not limited to desktop and laptop Windows or Macintosh computers.  The SBT will also work on different projects at the direction of the administration. 
Current counselor and former girls volleyball coach at Shadow Ridge High School, Karissa Guthrie remembers when Mr. Smith helped the volleyball program. Having three daughters come through the girls volleyball program at Shadow Ridge High School, Mr. Smith had a love for Shadow Ridge early on. 
"
Mr. Smith our new Site Based Technician will keep all computers, laptops, printers, interactive boards, etc in working order. He is working on helping us upgrade on security cameras for now. That's a big project!"
— Mrs Traci Kannon, Principal
"Mr. Smith was always willing to help with our tech and videoing needs during our season.  I am so happy to have him as part of our team at Shadow Ridge High School and look forward to seeing all the great technology systems he implements throughout the years," stated Guthrie. "Once everyone gets to know Mr. Smith, they will come to see the great personality and the desire to help students shine through."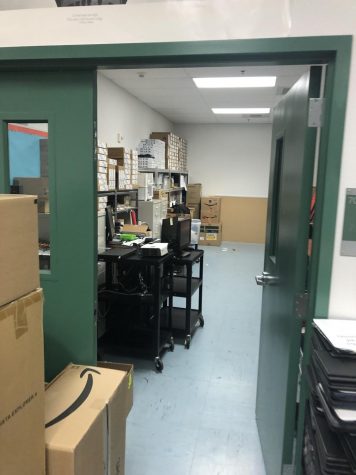 Mr. Smith came to Shadow from Johnston Middle School where he was also a Site Based Technician but wanted to make the transition to Shadow.
"I am responsible for all the technology at the school, including all computers, chromebooks, printers, network/WiFi  etc. I provide  tech support for the staff and students.  Choosing Shadow was based on gaining new experiences more than anything else. I came from Johnston Middle School which has 1200 students vs 3400 at Shadow so the volume of support is much greater and high school students and teachers have more advanced technical issues. I am excited about coming to solve bigger problems," stated Smith.
Mr. Smith hopes to provide the support to teachers so that they can spend more time teaching the students. 
Mrs. Kannon, Shadow Ridge Principal, is excited to start on some new projects and make sure the school has what they need.
"The role of the SBT is related to ensuring that students and staff have what they need with regard to technology," stated Kannon.