Josie Gordon Sets The Bar For Shadow's Choir
Junior, Josie Gordon is a very talented individual. She has been in choir for 5 ½ years and is currently in her sixth year. "This is my third year overall with the advanced and chamber choirs, and hearing all the other choirs while being a part of those two has been a life-changing experience," says Gordon.
Her favorite part about being in choir is the community, she loves to learn new things about music from Mr. Halvorson (Shadow Ridge choir teacher) and just enjoys singing with all sorts of people in a beautifully blended ensemble. "I feel genuinely accepted in this group being someone who stands out slightly from others," Gordan adds.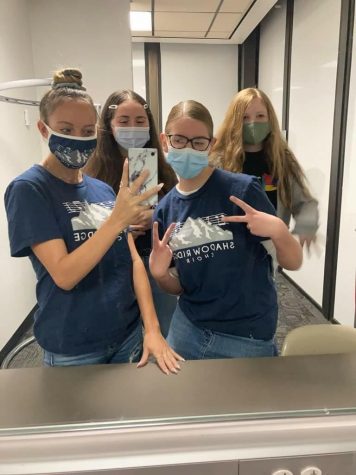 The hardest part of choir is recruitment. As the heads go on, students have tended to either gain people or lose a majority. The students plan to help diversify the choir and bring attention to how amazing it can truly be, no matter what music level they are in. Some of the vocal exercises are "Sing Legat", "Zeee Zeee Æ Zeee Ah!" (an operatic vocal exercise), and many more.
Gordon's favorite is the operatic one, as it improves the space in her mouth vocally, improves her range, and is overall just fun. Out of all the songs that she's performed, her favorite is one that she sang during her freshman year in concert choir. Dies Irae is the name of the song. "This piece made me feel some type of way; unexplainable to the core. The depth of our music is really beautiful," Gordon explains.
Gordon plans to pursue singing in the future. Once she attends college, she plans to take vocal production or some other music major that fits into her career path. She also plans to become a performer in the future, mainly performing hard rock, slight pop, screamo, and even metal. She hopes to get gigs someday and has already started writing songs. "I hope this works out… but anything genuinely can with a mindset and with that dedication," says Gordon.
The main challenge that she has faced revolves around her confidence. She has struggled with being shy and anxious at times when it comes to second-guessing her ability in the choir. Nonetheless, she has learned how to overcome those fears. "No, it does not take the snap of a finger, but it does improve over time as you surround yourself with good people and surround yourself within an ensemble that accepts you," Gordon said.
"
As long as you have dedication and are having fun within this beautiful community, that's all that matters. Music is a healing and communal thing, and that feeling comes in all different forms that can be granted to us from just an inch from our eyes. "
— Josie Gordon
Even though she was in choir beforehand, she wasn't sure about choosing choir as an elective during her freshman year. Now, she realizes that joining was one of the best choices that she's ever made. Both her musicality and her livelihood have gotten so much better.
As someone who struggles with mental health, this program has brightened up her life; it's somewhere where she feels heard and understood, especially by choir director, Mr. Halvorson. "The students in class are honestly such great people who have given me hope to keep moving within the choir over the years, and without them there I don't know what I would do," says Gordon.
She plans to help recruit more people to join the choir, especially men. She hopes that their community can encourage others to join choir, as they hold something special that they want to share that specialness with everyone through music. Without the community and the joy of singing, she would feel lost.
"I am very thankful for Shadow Ridge and am thankful for the path it has given me. Certain people in administration care about your well-being generally and are interested in the students and their personalities, which means a lot. Gordon explains. "My teachers and my choir director Mr. Halvorson, as well as my peers in classes in general, have given me a place to be within somewhat of a home."