The Countdown To Black Friday Is Now On
With Black Friday coming up in the next few weeks, specifically the day after Thanksgiving, November 26th, many major retailers have already started their deals. Black Friday deals are available online and in stores and is a way customers can get some great deals on gifts before the holidays. Customers have to be on the lookout for all the best deals and shop at the right stores. 
"Black Friday, the day after Thanksgiving, is one of the biggest deal-shopping events of the year. On Black Friday, almost every major retailer offers big discounts on holiday gifts, the hottest toys of the year, apparel, kitchen gifts, tech gadgets and more. Don't expect discounts on hard-to-find items like the Sony PlayStation 5, but you may be able to catch a PS5 restock during Black Friday," explains CBS News. 
Stores offer deals on items for everyone's wants and needs for the holiday season. 
"Though Black Friday 2021 is Nov. 26, if you wait that long to shop, you'll miss out on some great deals. That's because Amazon, Walmart, Target and Best Buy have all already started their Black Friday sales. Amazon's Black Friday sale kicked off in October and will run through the Thanksgiving holiday, with a number of short-term and longer-duration deals," states CBS News.   
Shopping early is a great way to not miss out on all the amazing deals for this holiday season.
Are you ready to embark on the Black Friday Craziness?
Sorry, there was an error loading this poll.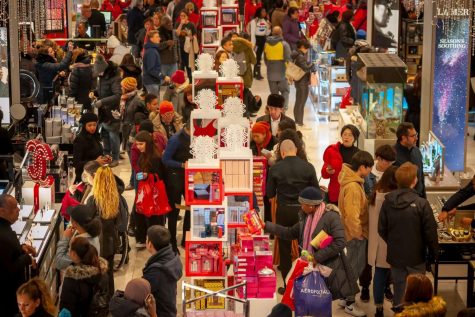 "Don't be fooled by the name that suggests Black Friday is a single day. It's most definitely not. It's more like a shopping season that begins in early November. Black Friday deals started days and weeks in advance of the actual shopping day last year and continued on until a week after Cyber Monday. We expect a similar window of deals this year," described Insider 
Even with the name Black Friday sales start and last much longer than just a day. 
Black Friday is all about finding the best deals and getting great holiday gifts for a cheaper and better price. 
"Black Friday is an annual sales event that traditionally happens at the end of November, marking the beginning of the holiday shopping season. The savings event is one of the biggest shopping holidays of the year — sales are so high that the day can push a retailer into "the black," or solvency," said Insider.
Black Friday has been a sales event for many years now, and it is a great way to ring in the holiday and save on many expensive items that may be on someone's wishlist.
As the Black Friday season starts, there are many deals that major retailers have already unleashed. Stay on the lookout for better deals to save money for the upcoming holiday season.