Giving Back With The Giving Machine
Imagine watching a high school student swipe their credit card at a vending machine, but instead of buying him/herself a bag of chips, they're buying supplies for a family in a third world country. That's exactly the purpose of The Giving Machine located at Downtown Summerlin. The Giving Machine has just had its annual reopening for the 2021 Winter Season in hopes that students can quickly and easily help those in need and make the season a little more significant for themselves and others.
The Giving Machine is sponsored by The Church of Jesus Christ of Latter-Day Saints and gives people wanting to help others an opportunity to contribute to local non-profit organizations and international giving campaigns. People can donate things like clothing, dental hygiene products, meals, school supplies, college admission applications or test score fees, and job skills training.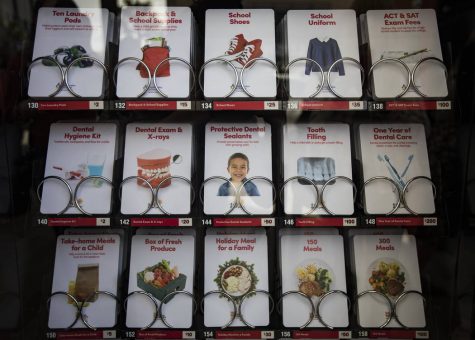 This year, The Giving Machine officially opened on November 3rd and will be running until January 3rd. This would be a perfect way for students and their families to give back to their communities. Dan Reynolds, lead singer of Imagine Dragons, made the first donation to kick off the event.

Video Courtesy of: Elise Noorda

"This is for our kids. This is to show them what life is about. It's to teach them a quick lesson that it's not about TikTok. It's not about likes on Instagram. Your self-love, your self-worth, your joy in life will come from giving to others," shared Reynolds.

Freshman, Madi Miller, agrees with Reynolds. Miller and her family participated in The Giving Machine last year. They purchased chickens, meals, school supplies, medicine, and a cow. Miller believes giving is always important and The Giving Machine gives families the perfect opprotunity to do something gratifying for someone else.

"It was really cool to see that you can do something so little in your mind but means so much to someone else," stated Miller.

The local non-profits that The Giving Machine contributes to are Communities in Schools of Nevada, Eye Care 4 Kids, Three Square, Future Smiles, and Opportunity Village. Global beneficiaries include the United Nations High Commission for Refugees and Church World Service Global.

The Giving Machine was launched in Las Vegas in 2019 and it raised $823,000, about $470,000 of which went to local non profits.

"It's not just about helping children see the board, it's helping them see their future. We really want to support these children to be successful in life and clear vision is one of those ways," Stephanie Kirby, Eye Care 4 Kids said.