Inside the Mind of an Artist with Samantha Dorado
Samantha
Dorado is a senior at Shadow Ridge High School. She likes to draw, especially gritty, gory pictures. She loves anime and wants to go to Japan someday, she even takes Shadow Ridge High School's Japanese class and she is in Japanese III. She has been drawing since elementary school.
Dorado has loved art since a young age. When Dorado was in elementary school she wanted to design clothes and learn how to make dresses. However, because she was young she knew that she wouldn't be able to sew. Dorado instead decided to pursue drawing since anyone of any age could do it. 
"The type of art I like the best is gore art and just anatomy and poses," Dorado explains, "My inspiration is Shintaro Kago, who is a Japanese artist."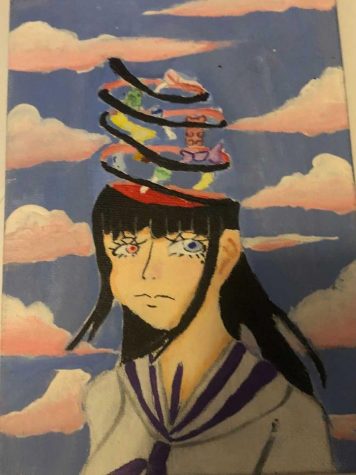 Shintaro Kago makes abstract art depicting young girls with multiple displaced body parts, especially eyes.
Dorado says, "What I like to draw the most is turning skin into a spiral and you can see what's inside the body like the bones."
It is easy to see where the inspiration comes from.  
Dorado is inspired by what she sees in people in everyday life. She finds the poses people do to be very interesting and it makes her feel inspired.
"I like to draw because there is always inspiration around me," Dorado explains.
So far, Dorado hasn't won any sort of award, however, her art has been recognized for having the best blending.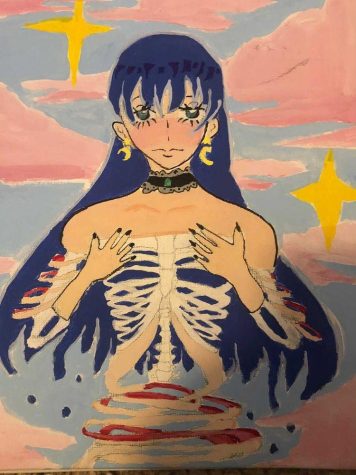 Dorado states "I started out with an outline and after that I started thinking about color schemes. I wanted her to do black because it was easier to do and I decided to make her head swirl and put things inside of it since my favorite artist does that." Dorado went on to explain, "The meaning behind this painting is about hunger because when you're sitting in school day long you're hungry and all I can think of is things that I crave. I was craving candy, especially gummy bears," Dorado explains.
Dorado was bored when she made the next painting, "I really wanted to do bones specifically, and rib cage.. so I started sketching out and decided to put the bones in," Dorado elaborates. Most of
this painting was done on a whim. "I really like sunsets which is why you see mostly pink clouds… I made her hair kind of drippy, I don't know why but I really wanted it to feel like a ribbon with the skin." Dorado feels that the girl in this painting was being her true self and unravelling, which is what she believes is the meaning behind this painting.