Yoga Therapy
Video Courtesy of: Mrs. Trotter and Mrs. Epstein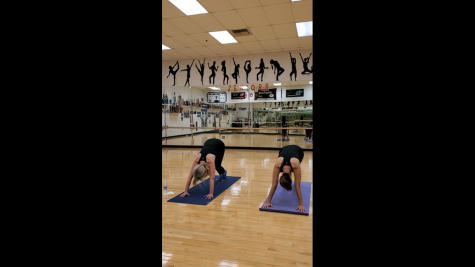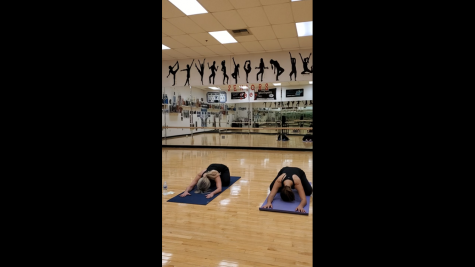 Being hunched over a computer during school and spending a lot of the day sitting can cause students and school staff to feel stiff and sore. Virtual school can also result in stress and anxiety among other problems. However, counselors, Mrs. Trotter and Mrs. Epstein, have come up with an approach that will be helpful to students in addressing some of these problems. The solution is yoga therapy. Trotter and Epstein film yoga videos weekly and they are usually posted on Thursday afternoons on the Counselor's Corner website and the mentorship pages in Canvas.
So why yoga? Trotter explains, "Yoga is a therapeutic exercise for your entire body and mind. It can be gentle and slow, but there are also so many movements that really get your heart pumping. Yoga focuses a lot on breathing, which when we are feeling anxious and/or stressed, our breathing can become short and fast. We also tend to breathe from our chest and not our bellies. Yoga teaches you the proper way to breathe while calming your entire body down with specific movements."
Trotter and Epstein are very experienced in yoga. Trotter has been practicing yoga for 13 years. She was looking for something that would get her into exercise and fell in love with yoga and its positive effects on the mind and body. Epstein has been practicing mindfulness through pilates and yoga for 14 years, making it a vital part of her schedule. She describes that pilates and yoga are great for relaxation and gaining flexibility and strength. Last year, Trotter and Epstein took a course in "Trauma Sensitive Yoga." It taught them ways to teach yoga while being conscientious and keeping other people's trauma in mind.
Trotter and Epstein started to form an idea that aligned with their desire to share their knowledge of yoga and its benefits with others.
"Mrs. Epstein and I started thinking about doing yoga with our students last fall. We were noticing that more and more students were coming to us with anxiety and depression and we wanted a different way to reach them then just talk therapy," Trotter shares.
Epstein adds, "Mrs. Trotter and I enjoy helping others learn and practice new strategies to de-escalate and relieve stress. It's a great way to either start or end each day."
Two videos are already up and running including an introduction to yoga and a video on desk yoga. Trotter and Epstein want to cover everything in yoga and their introduction involves learning how to breathe properly, which is a big component of yoga and a great skill to learn.
"Going forward, we plan to have yoga that will focus on specific body parts (neck, back, hips). We will also have yoga for different moods. We both follow 'Yoga with Adriene' on YouTube. I love that she has yoga videos for when you are anxious, angry, tired, etc. We thought that was a great idea and plan to come up with our own videos for feelings as well," Trotter tells.
"We will start to incorporate unique and fun themes into our yoga practice in order to make it fun. Any suggestions or specific requests should be emailed to us," Epstein continues.
Trotter and Epstein emphasize that no experience in yoga is needed to follow along with their videos. They make sure to show movements for beginners and things that more advanced students can do.
"The nice thing about yoga is that there are always ways to modify the poses and stretches in the event you are unable to complete the moves exactly as we demonstrate them. The more you practice, the more flexible and stronger you will become," Epstein remarks.
A way to become informed about upcoming yoga events is to follow the Shadow Ridge counselors @srhs.counselors on Instagram. Reminders about when videos are put up are posted on there as well as other resources that will help students. Also, since Trotter and Epstein are planning on doing some live videos in the near future, it's good to follow them to know the dates and times of the events in advance.
"We just hope that students will be moving and find yoga as a way to work through some of their emotions and or pain," Trotter says, "This pandemic is an incredibly hard time for us all. We are all feeling a sense of grief, sadness, anxiousness, and pain. Hopefully, through our yoga, we are still able to find a way to come together and heal as a Mustang family."
The counselors and all the other staff members at Shadow Ridge want what's best for the students and wish to help them during these trying times.
"We just want everyone to join us on our journey. Know that your counselors miss our students so much. This is just one way for us to show everyone that we care and are finding new ways to be able to connect with our students," Trotter expresses.
Epstein concludes, "We want to help you all during this very sensitive time in life right now. Taking a few minutes each day to stretch and bring movement into our lives will help us deal with the daily challenges in life."