Watts Up with Ryan?
One of the most outstanding senior Mustangs at Shadow Ridge, Ryan Watts, is excited to finish off what's left of a successful senior year. Watts, an extremely talented athlete, has put on several astonishing performances in both cross country and track and field over the course of his high school career. Consistently the highest caliber of varsity athlete, Watts has grown to be a crucial member of the teams he's a part of. On top of that, he's also a great friend and an inspirational role model to those around him. As he continues the year, Watts looks forward to closing out the cross country season, entering one final track season, and then moving on to the next stage of his life. He plans to serve a mission for The Church of Jesus Christ of Latter Day Saints and then attend the college of his choice. While he isn't sure whether he wants to continue running competitively in college, he will always cherish the opportunity to get out and go for a run on any given day.
"
Ryan is a mentally tough runner with an ability to make the hardest workouts and toughest races look a lot easier than they actually are. Out on the cross country course, he's certainly a force to be reckoned with."
— Coach Flynn
Currently Watts has a personal record of 15:56 on a 5k, and just placed second at the regional finals race. He intends to carry on this level of success into state and hopes to break some records this track season as well.
"My favorite part is going out with my friends with the wind in my hair and leading the group. It's empowering," Watts shared.
Not only does Watts often lead the front of the runs, he also leads as a captain of the cross country team. Yet, even being an example to others and more experienced than a lot of the runners, Watts still has examples of his own.
He explained, "Seeing teammates and others work so hard inspires me to never fear a hard workout and to get it done without complaining. Seeing my buddy Dennis break his records after a hip surgery also inspires me to never give up."
Dennis Speaks, senior, has been the only person this year capable of rivaling Watts. However, rather than letting it get between them, Watts and Speaks have bonded over the friendly competition and continue to lead the pack heading into a crucial state race.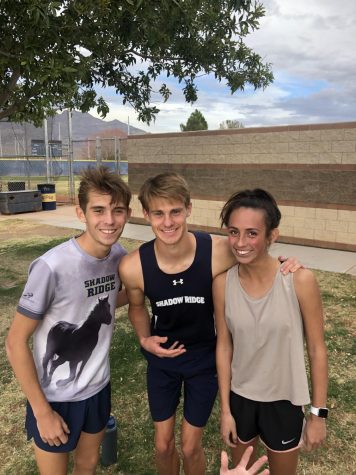 Speaks stated, "Ryan is a very gifted runner. Each race, it amazes me how much more he moves up. This last race, he got second, passing some of the fastest kids in our state. I strive to be like him."
Alexis Abney, senior captain on the Women's Varsity Cross Country Team, added, "Not only is Ryan an amazing athlete who constantly pushes himself, he's also a huge motivator to the rest of the team. He always has something positive to say and is all around a key part of our cross country team."
It's clear that what Watts does for the team is amazing, and his teammates and coaches are extremely proud of everything he contributes. Without him, the team could never be quite as strong.
Watts concluded, "My favorite part about being a Mustang is the pride that I have to be associated with great friends who make goals for themselves and reach them."