Shadow Ridge Wins Division for RTC
Regional Training Conference, otherwise known as RTC to Key Club members, was held virtually at Shadow Ridge this Saturday. Students brought their chromebooks or personal laptops to school to attend different virtual workshops with their peers. They were catered Chipotle and Pizza Hut, and had plenty of time to hang out with their friends in the quad. Ann Margaret De Guzman, junior and Key Club President, gave some more information about the purpose of RTC.
"RTC stands for Region Training Conference where our school's Key Club along with all of the other clubs in our Region, which is Region 5 (Las Vegas), attend workshops to learn more about Key Club and to further develop our leadership skills!" she explained. "RTC also includes spirit sessions where we show our school spirit!"
RTC is a huge part of Key Club, and the members spent weeks preparing for it. They had to memorize cheers as well as make various props for the video that Shadow Ridge's division sent in. The conference was virtual where it's normally in person, which is why Key Club had to record a video instead of performing the cheer in front of the other schools competing. 
"Key Club kids prepared for RTC by learning a cheer for our spirit sessions and making tutus, posters, and props for our cheer video! We even won our division spirit stick!" said De Guzman. 
At the event, school spirit was at an all time high. Food was catered and students had an array of options to choose from, namely Chipotle and Pizza Hut. There were also Krispy Kreme donuts, and plenty of other snacks and desserts. 
Although it would have been a much different experience if it was held in person, Key Club did everything they could to make RTC fun and interesting. Custom Key Club sweatshirts were given to everyone who attended, and although Shadow Ridge didn't win overall, most people were in good spirits.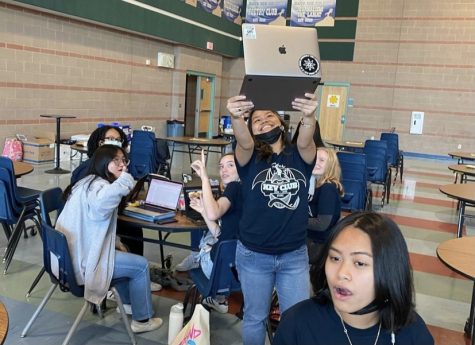 "RTC is one of my favorite Key Club events! It's so fun and I feel that it helps you grow closer with other Key Club members! It's such a great bonding and learning experience! My favorite parts about RTC are the spirit sessions and of course lunch!" said De Guzman. 
Mikayla Maluyo, another junior who attended RTC, was also happy with the experience. 
"It was amazing! It was my first year in Key Club and it was just a wonderful bonding experience with everyone! Of course, some of us were kind of bummed out about the results, but we all were super proud to win the division! All in all, it was super fun."