Southern Nevada College Week
The Southern Nevada College Fair week is October 25th-28th.  The fair will be held on Monday at Bishop Gorman HS, Tuesday at Coronado HS, and Wednesday at Faith Lutheran HS from 5:30 until 7:30 p.m. On Thursday October 28th the fair is from 9:00 until 11:00 a.m and then from 5:00 until 8:00 p.m. located at World Market Center. The fair is open to the public for all ages, but 10th through 12th grade is the largest group of people who come to the fair and is a good way for many high school students to get information about colleges and the opportunities they offer.
"
Colleges love to meet students of all grades, but there is only so much time that they can spend speaking to everyone. This is why we kindly ask everyone to be considerate of the juniors and seniors that have not had the opportunity to engage with colleges over the past 18 months."
— WACAC Fairs
"WACAC is pleased to release our Fall 2021 College Fair schedule. After careful consideration, we have decided to move forward with both in-person and virtual college fair options to offer the student population and their families that we serve in California and Nevada opportunities to learn about colleges all over the world," states WACAC website.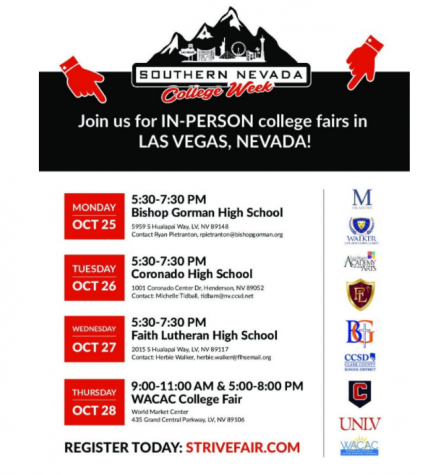 After a lot of thought, WACAC came to the amazing decision to host the fair again this year, but they have also included avvirtual option if people don't feel comfortable in that big of a group. 
"Be sure to register in advance at the strive fair website before arriving at the fair. This will make the process of speaking to colleges very quick and easy. You will need a registration barcode in order to enter the Expo at World Market Center. Remember that wearing a face-mask is mandatory throughout the convention center regardless of vaccination status," explains the WACAC Website.
Student registration can be completed on the Strive Fair website by filling out the form on the home page. 
Students can easily share their information with the colleges they are interested in by filling out this form. Students will be texted and emailed a barcode that the colleges can scan and when a college scans the barcode, they will receive all of the student information says the Strive Fair website. 
The Southern Nevada College Week is extremely informative for all students but mainly those in 10th-12th grade. There are many different locations, so everyone gets a fair chance to get valuable information.