9th Graders: Academic Planning Meetings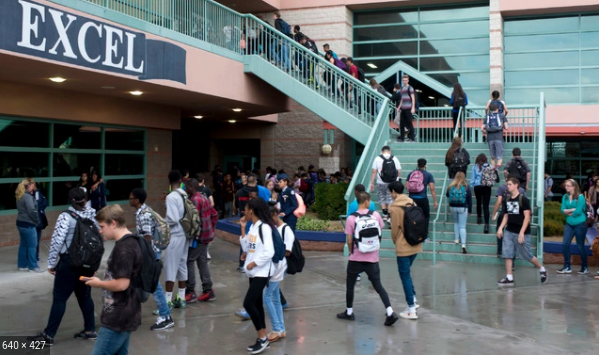 Academic planning meetings for 9th graders are just around the corner. Students will be called out of class sometime between October 25th and November 4th to discuss their planned schedule for next year and the classes that they'll need to take in order to get the diploma of their choice. Shadow Ridge Counselor, Karissa Guthrie explained exactly what these meetings are for.
"The purpose of these meetings is to make sure that the freshmen understand all of the diploma types that are offered, the course selections, and how to get to that diploma type, as well as correct GPA's," said Guthrie. "The Mentorship tab in canvas also pretty much lays everything out for them."
"
Knowing what options for classes are out there for them also helps them then go into their plan and decide what it is that they want to do over the next three years of classes."
— Lisa Hebb
Every Shadow Ridge student has a Mentorship tab in Canvas where important information is posted. All of the specifics on academic planning, as well as other events and opportunities, can be found under that tab. 
The meetings this year are set up slightly differently, to be more efficient and help both the freshmen and the counselors out. 
"The way we have our meetings set up this year, we're going to be in freshman studies and health classes for two days," Guthrie said. "For example, Mr. Scaccia is going to be the first day, and Ms Hebb will be going into the class and going through a slideshow that goes over diploma types and academic planning. Then that night, we want freshmen to go home and work with their parents on their academic plan in Infinite Campus. That way when they come and see us on the following day they'll already have the academic plan done and we'll be able to really talk through it."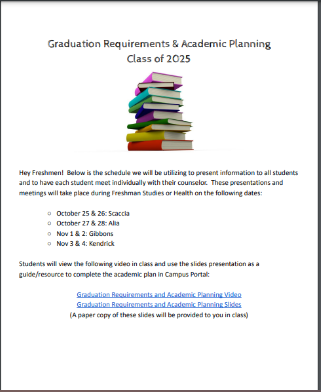 Freshmen will get the most from their meeting by coming prepared and having an idea of the classes they'd like to take. The hope is that 9th graders leave with an understanding of the route they're taking to graduation and the specifics of how to get there. Counselors will be covering these things with students and answering any questions they may have. Lisa Hebb, another Shadow Ridge counselor, spoke about the goals of these meetings, and everything they will go over.
"Most importantly, we will talk about graduation requirements. Knowing what options for classes are out there for them also helps them then go into their plan and decide what it is that they want to do over the next three years of classes," said Hebb. "One of the main things I talk about is knowing what you want to do when you graduate, which helps you make a plan and know what kind of classes you'll choose to take. That's really our goal, just for kids to be more informed about what's required of them to earn a diploma and what actions they have to choose from when it comes to those classes, so that when they talk to their counselors it's really just us giving suggestions."