President Pisciotta's Message to the Student Body
Especially during strange and trying times like students and staff are facing right now, a strong Student Body President is absolutely necessary. It's a good thing that here at Shadow Ridge High School, senior, Chloe Pisciotta, is at the head of a hard-working Student Council. Pisciotta puts a lot of effort into the Ridge, and on top of StuCo, she also plays tennis and flag football for the school teams. As Student Body President, Pisciotta takes into account what the student body, as a whole, wants, and what needs to be done to help the school and the community.
This year, because of the COVID-19 pandemic, StuCo might have to do things a little differently. However, they still keep in mind, and strive to achieve the same goals as before: positivity, creating and modifying school activities, and creating a powerful sense of school unity.
Pisciotta shared, "We are trying to make plans for just the first semester at the moment because we don't know what is going to be happening in January."
Even though school is online for the time being, Student Council has been trying to continue to reach out to students at Shadow Ridge through social media and online activities. There has already been a spirit week that many students participated in from the comfort and safety of their own homes.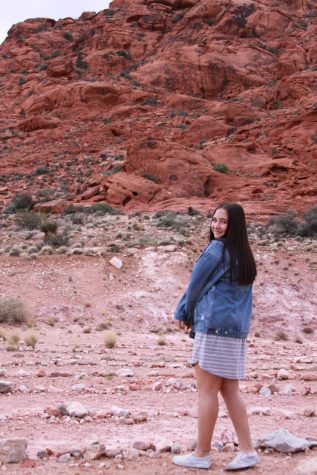 Pisciotta explained that the main purpose of these activities is to, "boost attitude and get students' school spirit up."
Although it can be hard to have school spirit amidst all of the other distractions, it's still important to the school community. Pisciotta, on top of leading Student Council, has also had to keep herself organized and busy so that the pandemic doesn't stop her or even slow her down. By keeping busy, she can stay focused on what she still can control in her life. She also loves spending time with her friends, though.
These friends, such as senior, Jackson Justice, notice the hard work and effort that she puts into trying to make these activities more fun and enjoyable for those participating.
Justice said, "Chloe's been my friend for a while now and she's always been fun. I get to be her VP this year and she's done a great job of running the council even though we aren't doing activities in person."
Excited to continue to run the council, she looks forward with optimism and hope for future activities and plans, which could, eventually, be in person.
Pisciotta advised any struggling students, "do not procrastinate, and get everything done when it's assigned because the work will add up in the end."