Congratulations to the Commended
Seniors Abigail Davis and Keira Shepherd were named Commended Students for the 2021 PSAT. A commended student is someone who was in the top 50,000 top scoring students out of 1.5 million who took the test. Around 16,000 students will move onto the semi-finals for a National Merit Scholarship. At the beginning of the school year, they found out that they were being considered for the Merit Scholarship, but on Monday October 11, 2021, they found out that they had been named Commended Students.
Both girls had different approaches going into their test. Davis didn't study too much because she knew what to expect, since it was her second time taking the test. On the other hand, Shepherd studied for about a month before the test. Both girls did study, hence their high scores. Out of 1520, Davis scored a 1320 and Shepherd scored a 1340. 
"I didn't really study too much beforehand. I already knew what I was expecting for the PS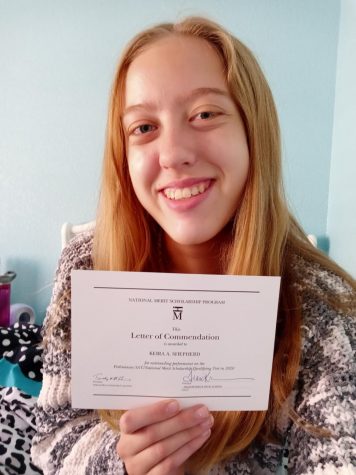 AT as I took it in sophomore year as well. I typically score really well in the English and Reading sections, so I think I reviewed a math study guide I found online the night before. I basically viewed the PSAT as a practice for the ACT that I took a few months later," states Davis. 
Knowing their strengths and weaknesses going into the test, helped them to study. Websites such as Collegeboard and Khan Academy are useful for study tips, along with using practice packets as necessities for studying when going to take the PSAT. 
"Definitely study! There are tons of online programs like Collegeboard and Khan Academy that can really help out with remembering material that students might have learned a year or two ago, and because you have to take the PSAT again your junior year in order to be eligible for the National Merit Scholarship, you can use your scores from sophomore year to see what you did wrong," explains Shepherd. 
Davis is extremely thankful for her family for caring about her education and for the amazing teachers she has had along the way. It wasn't Davis' intent as she went to take the test, but her family and teachers were proud, which made her day. Shepherd didn't know that Commended Students were a thing, so imagine her surprise when she found out she had won. Even though she won't be moving on to the semi-finals, she is appreciative of the fact that her achievements have been recognized. 
"
I was definitely surprised when I found out that I was among one of the top scorers because it wasn't my intention when taking the test to qualify. My family and teachers were very proud and it definitely made my day"
— Abigail Davis
The scholarships that the girls can receive are still somewhat unknown. On the website, it mentions something about "Special Scholarships" that are sponsored by corporations and businesses, but there are no official scholarships listed. 
Some advice for students taking the PSAT is to stay calm, study subjects that are challenging, and utilize resources given.
"I believe that being calm and not putting too much pressure on yourself is a key part of performing well on the PSAT. It's important to know your strengths and weaknesses so you know what to spend more time studying on. When I first took the PSAT I was given a practice packet during school and went through each question when I got home. Be sure to fully utilize the answers and explanations in the back of the booklet," says Davis. 
Both girls are extremely grateful for the support given to them from family, friends, teachers, and administration. Finding out they won such an amazing achievement was a shock for them. For more information about Commended Students and how to be considered for such awards, visit https://www.nationalmerit.org/s/1758/interior.aspx?sid=1758&gid=2&pgid=424.