Basketball is Ready to Bounce!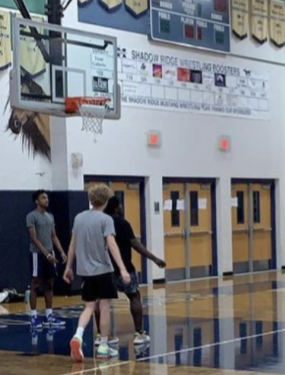 The Shadow Ridge Men's Basketball Team looks to have a good year this year and they are hoping to hang their first men's basketball banner in school history, but first, they are getting in shape with preseason intramurals.  The intramurals are Monday, Wednesday, and Friday from 7-9pm and players can expect to run a lot. Players need to come ready to work and bring running shoes.
"
I want us to have a fun, high energy season where the games are a blast to come to and participate in! We want crowd support for every game. Also, I want a division banner.  I will run the program like a mini college program, lift before practices daily and train like a college team. There is not one single boys basketball banner in the gym,  I want our program to be the first. I want to turn our program into an elite program.
— Zach Hafen, Head Coach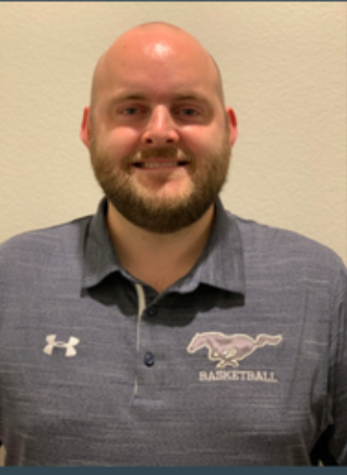 Coach Bowden, the Assistant Coach is energetic about intramurals, stating, "The Intramurals will be 90 percent conditioning and 10 percent running so don't expect to play much basketball and come ready to get in shape. We need to be in shape because we look to get up and down the court fast. We also need to be in shape to be our best at the defensive end of the court. So if you are not willing to get in shape and run you won't be on our team simply."
Coach Hafen looks to work on other things beside conditioning such as skill development he also thinks if the team is conditioned will be better off against bigger opponents. It will help them on the defensive end also. The Shadow Ridge Mustangs biggest competition in the newly created 4a Division will most likely be Rancho and Spring Valley
Sophomore, Jeremiah Campbell, stated, "It was a long off-season for me and I look forward to getting in the gym and working my tail off because I have to be in better shape to play basketball.  In basketball, players never stop running and the average play in football is about four seconds long. I also don't mind being in shape because one of the best things I do is play defense and if I'm in shape I'll be way more active on the defensive end which will make it way tougher for my opponent . Last but not least I'm excited to compete against other schools. This is something I haven't been able to do in basketball because of Covid but I look to do it again and hopefully win some games.''
 The Shadow Ridge Mustangs will be competing in the 4A Division Mountain League, where they hope to get the best of their opponent every night to Defend the Ridge.  Rest assured,  the players will be strong and conditioned headed into season. Tryouts for the team are Saturday November 13th from 7-9 pm and Monday from 7-9 pm. Good luck to everyone trying out.