Swing Dance Club
Every Friday from 1:30 to 2:00 pm the Swing Dance Club meets in the dance room in the gym. Swing dance is a style of partner dancing that was popularized in the 1950s. Swing dance, or "swing," involves two partners swinging and lifting each other at a very fast pace. 
Regina Spanier, the advisor to the Swing Dance Club, says, "Students get together and learn how to swing dance. Swing is similar to the Sock Hop days where you do all kinds of fancy dance  moves with your partner while dancing to cool music."
"
Have a great time doing something that we love while just letting loose for a while in a constructive way."
— Regina Spanier
There are many different types and variations of swing that partners can attempt. Each move will look different while still keeping the same swing dance feel to it. Many of these are taught. The Swing Dance Club hopes that they can make an appearance in this year's winter dance performance to show off many of these moves.
Junior Annalise Welker says, "My favorite one is called the Mona Lisa. There is also the can opener, pretzel, dip, jazz dip, windows, FBI, and dishrag."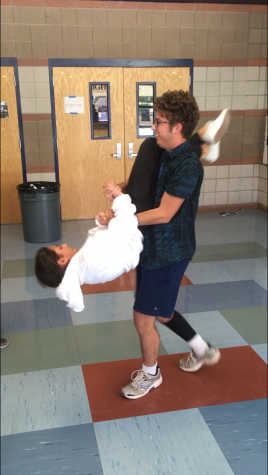 Welker, who joined the club her freshman year, has been swing dancing for three years. She was taught swing by her mother and she wanted to learn more. She has since become the President of the Swing Dance Club who also teaches all of the lessons.
The Swing Dance Club is open to anyone who is interested in joining. Students from all levels of experience have joined the club and beginners will quickly get used to and be more comfortable with swing. The club starts by teaching different moves, starting with easier moves and then moving to more advanced styles. In the end, students put what they have learned together.
Sophomore Leah Okuda, who joined in September, says, "Swing dance isn't physically challenging—it just takes a bit of memory. I personally don't think it's too difficult."
Even after a year of inactivity due to quarantine, the Swing Dance Club is still thriving and ready to take in new members. Those who join the club get a chance to let loose after the long week. Many come to dance to the music with their friends or meet new people that they can share their hobby with.