Exchange Students at Shadow: From All Around the World.
Being an exchange student is both a dream come true, and a challenging experience of life. This year Shadow Ridge High School opened its doors to students from all over the world. 
Victoria Helena Doval Castilho, from Brazil, is a senior at Shadow. 
"I chose to be an exchange student because I wanted to challenge myself and experience something completely different than everything I've ever done," she explained. 
"I chose the US because I wanted to know what it is like to live here and of course speak English."
Her favorite class is AP US History. She adores her teacher, and she has the chance to comprehend a lot of knowledge she would never learn in Brazil.
Nicole Uramova is a senior at Shadow, from Slovakia. 
"I like it better here than in my country. I am really happy that I'm part of this school," Uramova said. 
"We don't have school's sports teams in Slovakia, which is sad because I love to hang out with my friends and watch school sporting events, it's so much fun."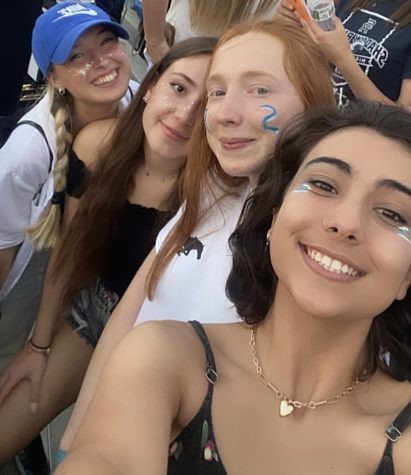 Amanda Sommer, senior from Germany, and Caroline Dumargne, junior from France, loved Spirit Week mostly so far.
"Spirit week was completely new for me and I liked that most of the student actually played the games," Dumargne stated. "Or just even the decorations everywhere around the school, sometimes sweet words, sometimes games announcement, sometimes greetings from different countries… everyone put a little of themselves and I enjoyed it so much!"
"I really adored Spirit Week," Sommer added. "It was always so much fun and I adored seeing all the different ideas and outfits about the themes that came out during the week. Thinking about what to wear and getting dressed up with my friends was just an unforgettable experience."
Sommer's first football game in the United States was also her first football game of all time, and she said it was so much better than she could imagine.
"Everyone was just having fun," Sommer said. "Supporting our team, screaming supportive sayings and making as much noises as possible. We were all super hyped about the game and were having so much fun."
"
The homecoming dance was more than fun. We don't have something like this in Germany so it was completely new for me, but also something that I would like to do again…we were dancing and laughing the whole time. It was a time I will always remember."
— Senior Amanda Sommer
All the exchange students agreed that the most memorable memory at Shadow Ridge was the Homecoming dance. 
Camilla Guerrini, a senior exchange student from Italy declared that it was unforgettable. 
"Homecoming was absolutely amazing and probably the best time I've had until now," stated Castilho. "My friends and I had so much fun, I just wish it lasted longer."
Nicole Uramova was of the same opinion, and added that she liked the music, the dance, the atmosphere.
"The only thing that I don't like is that it is just once a year," she commented.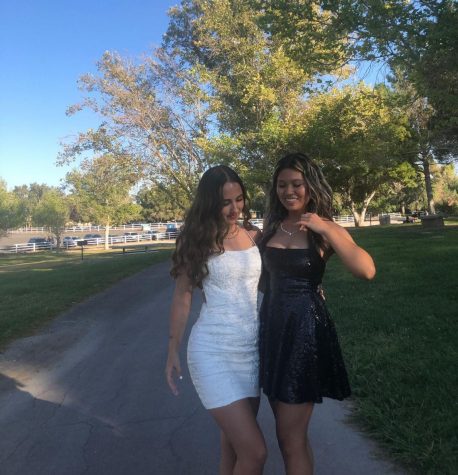 Dumargne said that Homecoming was just magical.
"The music was awesome, everyone looked gorgeous dressed up, and the vibe was indescribable!" she remarked. "I loved being there, and I honestly wished I was there longer, because it was like a bubble of happiness, entertainment, and joy."
"The Homecoming dance was more than fun. We don't have something like this in Germany so it was completely new for me but also something that I would like to do again," concluded Sommer." I met so many new people and just enjoyed the time with my friends. We were dancing and laughing the whole time. It was a time I will always remember."