Raiders Raise the Roof with Helmet Display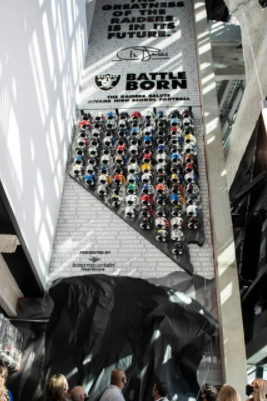 The Las Vegas Raiders have honored Nevada high schools with a permanent art display at Alliegiant Stadium. The installation consists of 96 football helmets for each prep-football team, and is almost 50 feet tall. The Raiders and Intermountain Healthcare collaborated to unveil the display two weeks ago, and each helmet recognizes a different Nevada Interscholastic Activities Association High School football team. 
"Battle Born" reads the big bold letters at the top of the display. In smaller print is the message,"The Greatness of The Raiders is in its Future." The quote is a well known mantra of Al Davis, owner of the Raiders. The Raiders started partnering with Intermountain Healthcare in order to give back to their community in 2019, and since then, they have been committed to helping the youth of Nevada. The Raiders President, Dan Ventrelle, put out this statement regarding their partnership with Intermountain and their hopes for the future. 
"The Raiders share a commitment with Intermountain to make a difference in our community," said Ventrelle. "We are pleased to team up on multiple efforts to positively impact our region's youth, including showcasing high school football programs at Allegiant Stadium."
The eye-catching wall of helmets showcases their efforts perfectly, each helmet representing a different football team at high schools all over Nevada, Shadow Ridge included.
"It has been a great honor to partner with the Raiders on community health initiatives and with helping our youth. We share common goals and aspirations to help build healthier communities and families," said Mikelle Moore, Intermountain's vice-president and Chief Community Health Officer.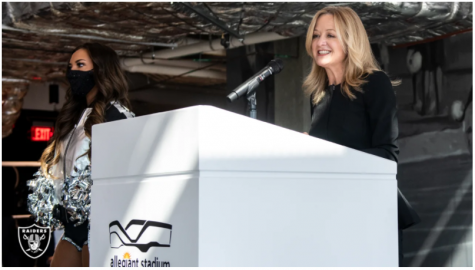 So far, the Raiders partnership with Intermountain Healthcare has led to many helpful programs for youth leagues, as well as Clark County programs such as "Coaching Boys Into Men" and "Athletes as Leaders" which seek to end domestic violence by educating young athletes. Their partnership will most likely lead to even more great things for Nevada's youth and Clark County School District in the future!