Football Finds Friends and Family
Juniors Davison Glenn and Isaiah "Zay" Rayes are both varsity ofotball players. It is both boys' first year on varsity and they are excited to see how well they grow over the season. 
Glenn has been playing football for about 5 years and he joined because his friends had been playing and they seemed to be enjoying it, so Glenn decided to join. One of his greatest accomplishments in his football career is when his team won the championship and they were able to travel to the Silver Bowl. As a first year varsity player, he is hoping to create a name for himself as someone who helps the team. He is always looking to improve himself, to become a better person and player.
"What motivates me is that I have a desire to improve myself. I want to keep playing and get faster, stronger, and more skilled," states Glenn. 
"
My favorite part about playing is the second family that is formed when you are on a team. Everyone helps each other and we all have fun."
— Davison Glenn
Glenn is a running back, because he has ​​a talent for speed, and enjoys running down the field to pass the other team to score. His favorite part about playing is the second family that is formed, when people join a team. Everyone helps each other and they all have fun. 
Rayes has been playing football since eighth grade, and his dad inspired him to play because he played football, and Rayes fell in love with it. During his freshman year of high school, his team went 9-1, and that's his greatest accomplishment. His main goal for the season is to get a touchdown or tackle someone hard. He chose to be a defensive and tight end because those positions are generally the best positions in the NFL. Zay is also a part of the basketball and track and field teams at Shadow. His uncle is his biggest motivator.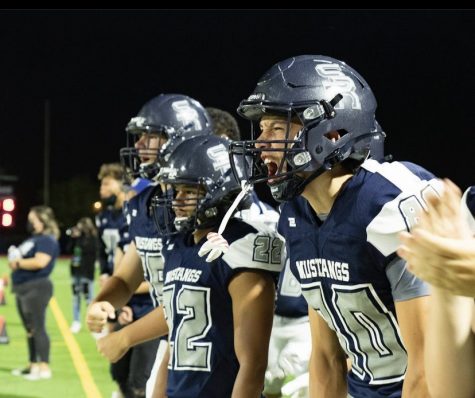 "My dad's brother died on the football field, and he wore #31, so I chose that number to honor him, and that's what motivates me," explains Rayes. 
Building a family and bond with teammates is like nothing else. Sharing special moments helps each player grow individually.
"My favorite part of playing is where I get to be with my teammates all summer working out, getting to know them more, and winning football games with them," said Rayes. 
Both players have different reasons for motivation and different favorite parts about playing, but they are one in the same. Their love for the sport and for their teammates is growing by the day, even as the season starts to wrap up.