Callia's Creativity
In many instances, art can be used as a much-needed creative outlet and emotional release. For many people, art is a way that they can transfer their thoughts and feelings into a way that others can see. This has largely been the case for senior Callia Baiza who uses art and painting as a way to express themself. Baiza first started taking art classes and painting at a very young age but has mostly relied on themself to further their abilities and skills.
"
My work is inspired by what goes on in my head. My favorite thing to paint is skulls and semi-realistic eyes. I paint to express myself and be creative. It also helps me have an outlet for my emotions."
— Callia Baiza
"I started painting a while ago, before middle school back in elementary school," Baiza says. "I've taken a lot of art classes since elementary school but I've mainly been self-taught."
Baiza finds most of the inspiration for their work just through their own thoughts. Their paintings are a reflection of their inner state and a lot of their work is more whimsical in nature. One of Baiza's favorite pieces is a character from a cartoon that they redrew in the style of famous artist and director Tim Burton.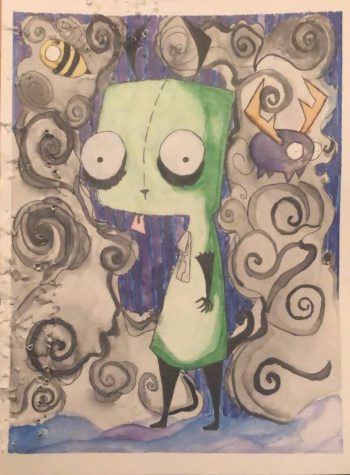 While art does amazing things for many people, it comes with its own set of challenges. A lot of people can struggle to find inspiration for their work and many have a hard time completing a project once it is started. Another big challenge that many artists face is giving themselves a hard time with their art once it's finished and judging themselves too harshly. Baiza is no stranger to this but has found ways to combat some of the many trials an artist can have.
"[To get out of art block] I will watch shows or listen to music, which tends to help a lot," explains Baiza. "The most challenging aspect of art is being ok with my artwork and not being so overly critical."
Baiza puts a lot of themselves into their work and it definitely shows in their style and subject matter. Through their art and expression, people are able to get a look into Baiza's personality and inner self. 
Senior Mikaela Berg says, "You can really see that they put themself into every piece that they do which makes it really exciting to see what they are going to do next."
Baiza has a very unique style of painting which makes their art incredibly interesting and pleasant to view. Baiza created a piece depicting a colorful crying eye for a project in Advance Art Studies which they then gifted to senior Brandon Baham.
Baham explains, "It was well done and very unique. I had an abstract feel about it, using lots of different colors. I don't know why they didn't want to keep it!"