Flag Football: Mik and Mak
Senior captains Mikayla Brown and Makayla McEvoy, affectionately known as Mik and Mak, are looking forward to a successful season for the Shadow Ridge Women's Varsity Flag Football Team. The season officially begins in late November, but Mick and Mak are already proving their flag football abilities out on the field as intramurals are currently taking place.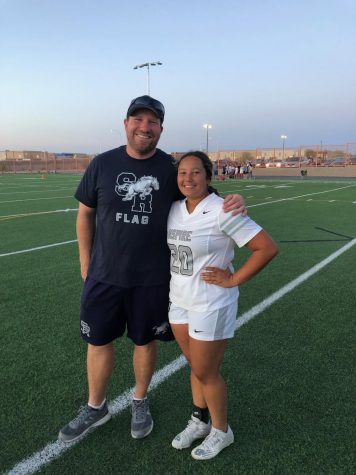 Over the summer, multiple opportunities were offered to the girls. The Las Vegas Raiders held training camps and combines allowing teams to compete before the season starts.
"I can't wait to see how Mik and Mak lead the team this season. They've been valuable assets to the team for the last three years; as seniors, I'm expecting great leadership," stated head coach Matt Nighswonger.
Although a lot is dependent upon the athletes, great teams become really successful through great coaching.
Brown explained, "Coach Nighswonger and Coach Lewis always pushed me to be the best athlete, teammate, student, and person I could be. I know if I ever needed help with anything, I could always go to them and they would be there."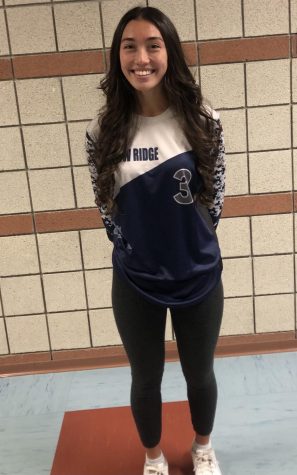 McEvoy also feels extremely grateful for the coaching staff provided to her affirming "Coach Lewis and Coach Nighswonger have always made me feel motivated to push myself further and further in football. I feel they both made me believe I had the potential to be great." 

The talents of both girls do not go unnoticed. Brown started playing flag football her freshman year, when she was fourteen years old. Brown's the varsity quarterback and she also participates in softball for school and club during the off season.

"My favorite thing about football is the bonds that you form and the memories that you make. Our time playing the sport will eventually end, but the memories you make will never go away," said Brown.

Brown thinks that attitude is definitely a factor when it comes to winning. She went on to explain that there are only two things she can control while playing: attitude and effort. Brown stated that having trust among the team is also key in developing a successful program; all of the girls on the field have to know that their teammates have each other's backs.

Video Courtesy of: Mikayla Brown

Makayla McEvoy started playing flag football her sophomore year. She's a wide receiver/running back who also participates in computer club.

"The best part about football is that you're doing it with your team. We all practice and bond together, and then get to work together to win," declared McEvoy. 

McEvoy also feels that maintaining a positive attitude is a requirment on the field. She said players can only play as well as they think they can and if they walk onto the field with a failure mindset then the opposing team has already won. McEvoy advises any athlete about the importance of being coachable.

"No matter how long you've been playing the sport or how much you know about it, you have to remain coachable because there is always more to learn."


Video Courtesy of: Makayla McEvoy

Brown plans on making the All Star team again this season, while also breaking her single season passing touchdown record.

McEvoy has her sights set on graduating and getting into a good college.