Horses and Homecoming
After last year, Shadow Ridge is extremely eager to return to many of the opportunities it missed out on. The Mustangs, due to the pandemic, missed a full year of school events like school dances, tailgates, lip syncs, and in-person dress-up days. However after a long wait and a lot of patience, Homecoming week will be happening at Shadow Ridge once more. This week, from September 27th to October 2nd, all sorts of different school-spirit spreading fun will fill the Ridge. Monday will be a day for students to show off their flashy pajamas and paper airplane making skills, followed by a community service activity after school. The next day, students will dress like tourists, pin the Eiffel Tower on France, and enjoy an amazing Lip Sync. The spirit day on Wednesday will be Vegas themed clothes and the lunch activity will be musical chairs, with the kickball game on the football field at the end of the school day. Thursday will be Souvenir T-Shirt Day, with cornhole available at lunch and a car show after school. Finally, on Friday, as always, there will be a SRHS spirit day. The weekend will feature most of the biggest Homecoming events, including the tailgate and parade after school Friday, then the varsity football game at 6:00. The Homecoming dance will be held the next day, October 2nd, on the football field.
With an exciting Homecoming week ahead, the goal is to get the school as hyped up and excited as possible to be back at the Ridge to finish out another fantastic year as Mustangs. Student Council is thrilled to be able to take charge in such a fun week and help deepen students' connection to their high school.
"I'm most excited for the spirit days. I love dressing up and it's the easiest thing for the whole school to participate in," shared Alexis Abney, Senior Class President.
Abney and others want students to feel as involved as possible, and encourage everybody to show their school spirit and attend as many of the events this week as they can.
Hailey Morrow, Student Body 1st VP, stated, "My favorite part of Hoco week is definitely the tailgate and football game on Friday. It's a fun experience to ride in the floats during the parade and support the football team as they battle for the win."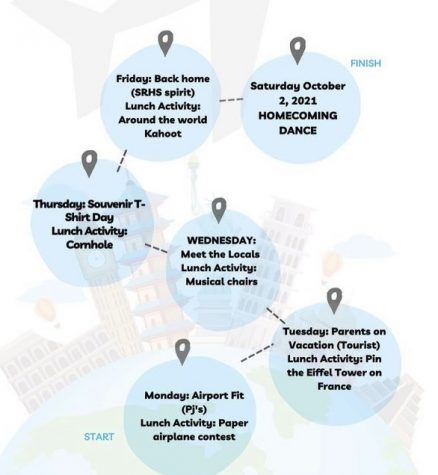 Although there are many things to be excited for this year with the return of Homecoming, a couple things are going to be a little different this year than in years past.
Abney explained, "The Hoco dance is going to be on the football field and only flat shoes or socks are allowed. If people bring heels, they'll have a section to put them in and they'll have to wear socks. They'll be a DJ and dessert. In order to go to the dance you have to go to Shadow. If you're homeschooled, you must be zoned for Shadow. You will need your school ID."
There will be a couple extra precautions to keep the students safe in these crazy times, but Homecoming week is definitely an exciting chance for all of Shadow Ridge to show their true Mustang spirit.