Poort Runs the Court
Sophomore, Chloe Poort, is a right side (oppo) hitter on the Shadow Ridge Women's Varsity Volleyball Team. Poort has been playing volleyball since she was seven years old and she has proven herself to be a valuable player in the program.

Although Poort plays high school volleyball in the fall, she dedicates her time to the sport year round; she plays club volleyball for Vegas Aces as soon as the high school season ends.

Head Coach, Jo Makaiwi, is especially thankful Poort is a part of the program stating, "Chloe exemplifies three intangibles that every coach would want in a player. Voice/communication, hard work, and a great attitude. That alone makes her an asset to our team."

Elaina Smith

Poort's dedication on the court doesn´t go unnoticed by her fellow teammates and coaches. Assistant Varsity Coach, AJ Makaiwi explains , "As coaches, the number one thing we ask from our players is to give 100% effort. Whether it be practice or a game, Chloe always gives it her all."

Even though Poort has set her sights on playing volleyball collegiately, part of her success can be attributed to having the right mindset.

"When I play I feel excited. I used to play scared and worried that I may make a mistake or let my teammates down. However, I learned that playing that way takes the fun and love out of the whole game. Now I make it a goal for me to always have fun and make sure my teammates do too," said Poort. 

As the Mustangs get ready for conference play, Poort keeps her eyes on the prize. In addition to Poort's ultimate goal of having fun on the court, winning follows close behind.

Poort exclaims, "My favorite part about competing is winning. There is no better feeling than being on the court and being able to prove the work you've put into practice was all worth it for the feeling of victory with your team."

Poort does have individual goals for the season. The main thing she hopes to improve on is her consistency with her play. She would like her teammates to have faith that she can play to her full potential every time a ball is served. Becoming an outlet on the court is something Poort believes can amplify her volleyball maturity.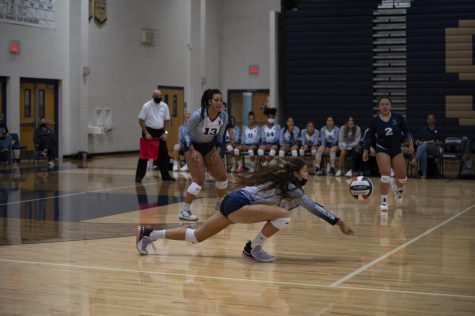 Undoubtedly, Poort has acquired amazing advice through her eight years of playing volleyball. The one that stuck out the most was that of her club coach, Ruben Herrera, expressing players have to "play to win."
"Of course you always want to win when you go out to play. But I think it takes a lot of strength to PLAY like you want to win," Poort affirms.
Elaina Smith
Crowds can be heard cheering "Oh,  Baby!" And, "She's A Sophomore!" as Poort displays superior volleyball abilities.
Poort successfully conquers each day by consuming at least 15 Five Hour Energy shots, and after each game she looks forward to eating, "…Pasta, sandwiches, anything I can find pretty much."