Charlotte Larason: Life on the Stage
Junior, Charlotte Larason, has been involved in theatre since she was in 6th grade. She enjoys theatre because she likes to act and theatre is a "creative outlet" for her talent. Larason has been in 5 shows and is currently in preparation for a 6th show; she has also participated in the technical aspect of theatre for one of her previous shows. So far, Larason's favorite show that she's been in is All I need to know I learned in Kindergarten.
Theatre is a place where Larason feels comfortable and she can be herself.
"The people are so accepting and everyone is genuinely nice," she says.
Theatre has taught Larason that she doesn't have to hide who she is. Nobody cares if she is just completely herself. Being in theatre has surrounded Larason with people who care and love her, and has helped her find herself.
"I don't want to hide my personality. That's how I became more confident," Larason says.
She has also gained acting skills from theatre. Years of practicing and good teachers have helped her to improve as an actress.
"Mrs. Hartley, my current theatre teacher, is amazing and she will do anything she can to help me succeed and get better," Larason notes.
Larason says she has become a more confident person and actress. 
A few shows that have inspired Larason are Hamilton and Dear Evan Hansen. Dear Evan Hansen has especially inspired Larason because the show shines a light on mental illness and loneliness.
"It really hit close to home for me," Larason says.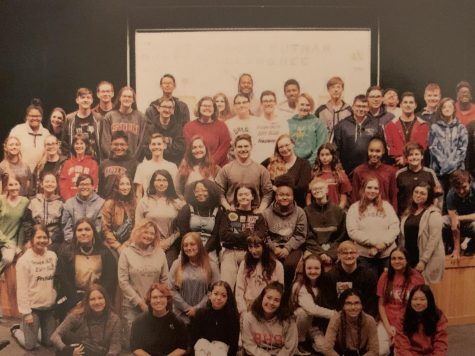 She looks up to the writer and composer of Hamilton and In The Heights, Lin Manuel-Miranda, because he is talented and his music helped Larason get through hard times.
Larason's fondest memory in theatre is a showcase she did when she was a freshman. She, and 3 of her friends, turned the poem "Rock N' Roll Band" by Shel Silverstein into a scene. They were the last to perform, closing out the show.
"We had so much fun and learned so much during the process," Larason explains. 
While she admits to getting nervous at the beginning of the productions she is in, she is okay after a few seconds.
"The stage is my comfort zone and I love it," Larason states.
She is currently in the Shadow Ridge Theatre Club. Her goals are to continue to be in shows, and by the end of the year she hopes to be inducted into the Thespian Society.