Luna's Love for Lacrosse
Senior, Kaylen Luna, began her lacrosse career in 2014 and continues to fall in love with the sport more and more everyday. She showed interest in the sport when she started at her new school, Somerset Skypointe Academy, in an effort to make new friends. Prior to this she had not played a sport before, so this was something new she could enjoy. She and her friend, Kylie Cabrera, decided to join together. Since then, Luna has gone on to play both high school lacrosse, here at Shadow Ridge, and for Lacrosse Force, a local club team. She continues to excel every time she steps foot on the field and her dedication to the sport does not go unnoticed.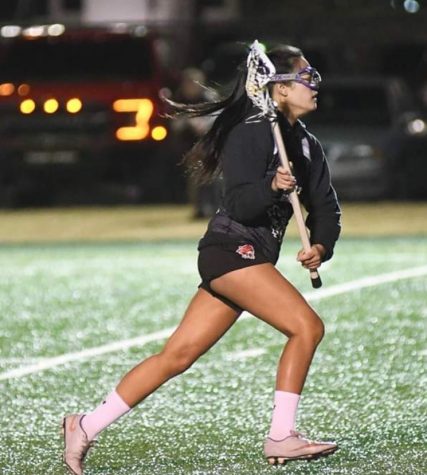 Her favorite part of lacrosse are the tournaments, especially ones in California. People from all over come to experience something they all love, and she loves meeting new people. Playing in tournaments has inspired her to strive for more. Luna plays midfield and attack and wishes to further her lacrosse journey beyond high school and is aiming to play Division II lacrosse. 
"I love all my teammates. Everyone I've ever played with has given me an opportunity to learn and grow as a player on and off the field. It takes time to create a bond with some people, but I couldn't have asked for a better lacrosse family to surround myself with," Luna states. 
"My favorite people to play alongside are my two best friends Shaina and Holly. We have been playing together for years and I always enjoy being with them on and off the field. " 
"
Stepping on the field each day is like a breath of fresh air.
— Kaylen Luna
This year the women's lacrosse team attempts for another successful season and hopefully to take home a championship in spring of 2022. 
"My daughters Kaylen and Kaliyah are my favorite to watch on the field. They are able to read each other so well and play in perfect harmony," stated, Luna's coach, who also happens to be her father.
Coach Luna has repeatedly expressed his faith and trust in the team and is counting down the days where they will be able to hit the field again. 
Outside of lacrosse, Luna also strives for greatness off the field. As far back as she could remember she has always wanted to go into the medical field, specifically, her ultimate goal would be to become a labor and delivery nurse. 
Although she is sad it is her last year playing, Luna cannot wait for this upcoming season to begin and is determined to have the most successful season yet!