Stahlke's Suspicious Sink
Students have long been suspicious of Mr. Stahlke and his mysterious sink. There have been many speculations of the sink's secrets. Sophomore, Ashley Enciso, who is a student of Stahlke was very confused when she first saw the sink and thought to herself "What does he really do with the sink?" Stahlke claims the sink is useful to his forensics program which is a three year program where Stahlke teaches students everything that is involved in criminal investigation.
"Ever watch CSI or crime TV shows? It's that but I teach the reality of it. We start off  investigating the crime scene and the responsibilities of the forensic science lab, and at the end of the program, students create a crime scene for the first year students to process and investigate. The course is very hands on and we move around quite a bit. Basically think of the coolest class ever… That's the forensics program," Stahlke explains.
According to Enciso, students are currently learning how to package and examine evidence. 
"
I think Forensic Science is a very fun class. It is very hands on and it's easy to work with peers because that's what the class is all about
— Ashley Enciso
The sink, however, has remained a mystery. It is a huge industrial-sized sink used to "conduct experiments" that require a large sink and to clean things off.  Stahlke has many interesting stories about the sink, but his favorites are the ones his students make up.
"The best ones are the ones that are student generated… Have you ever played the game called telephone? Where one thing is said and then it gets blown out of proportion… Let's try that. I am going to say this: The sink is there for cleaning things found at a crime scene. Sometimes it backs up and a horrible smell comes out of it… Now you come up with the rest," says Stahlke.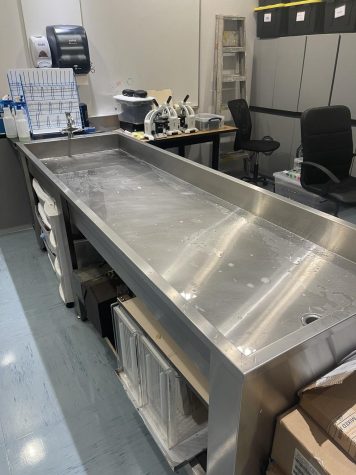 Fortunately, the sink was already installed when he moved into the classroom and, according to Stahlke, it has become a valuable asset to the classroom.
"It's where the juices from the bodies get rinsed. Can you imagine doing an autopsy on one of the tables!? What a mess right!?" asked Stahlke.
Students should be on their best behavior though, due to the fact that Stahlke can neither confirm nor deny ever punishing a student by putting them in time out in the sink. No one will ever know the truth except for him, he has spent many years covering up his tracks, and his forensic science background has proven useful in covering up those tracks.
On a lighter note,  Stahlke enjoys his holiday meals there. Thanksgiving, Christmas, and birthdays are all on the list of special occasions worth using the sink for.
"Sometimes lunches from the student store are prepared there. Don't tell McCombs but the Canes and Panda Express come to me first," Stahlke adds. 
The sink itself is very comfortable, so comfortable in fact that he actually naps there.
"I've take at least 3 naps in the sink. I never leave. It's nice and cold and keeps my body temperature regulated," stated Stahlke.
Mack the Mustang uses the sink for his bed every night so when Mack shows up, Stahlke has to relocate. The sink is a very valuable asset to Stahlke's everyday life, and for others, it will remain a mystery that they will never solve.