Get Your SRHS Swag From Berge the Banker!
New Shadow Ridge merchandise is  available at the banker! There are different types of sweatshirts, t-shirts, leggings, hats, and more, all of which are amazing quality for affordable prices. 
"The Shadow Ridge school bank has primo merchandise," Mrs. Smith, English and journalism teacher, said. "Ms. Berge spent the entire summer scouring magazines to find the most comfortable, the most aesthetically pleasing, as well as the most cost efficient merchandise. We are getting quality products at a low cost, and our merch is the best merch in the entire valley." 
Shannon Berge, the School Banker, spent her summer wisely, searching for the best quality merchandise Shadow Ridge could possibly offer. Although the supply is large, the demand is growing, and soon things will start to sell out.
"So the big selling item is this crewneck sweatshirt, everybody wants the crewneck. It's $20, so it's a deal," Ms. Berge said. "Everything should be available until we sell out, but things are going fast!"
Although the temperatures outside are still pretty warm, SRHS students know, and should be warned about, how quickly the Las Vegas weather changes. Sweatshirts will be a must in a few weeks and the banker's office is the perfect place to start securing a warm winter wardrobe.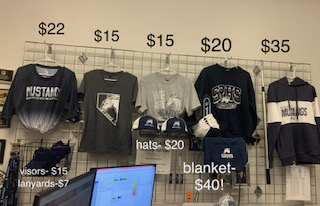 In the wonderful informational video Ms. Berge made for The Lariat, she shows off the crewneck that's so popular among students. She also mentions the new deal at the banker's office:  for every item purchased, students get a free pair of SRHS leggings! Students must mention that they have seen the video on The Lariat website in order to get the free item with purchase though.
"We've got blankets, we've got hats, we've got lanyards! All kinds of fun stuff here in the school bank, come on over and pick something out!" says Ms. Berge.
One item that is not new, but is still a crowd favorite, is the Mustang blanket. This blanket is so warm that it is perfect for an afternoon nap on the couch or to take with a student on a long weekend camping trip. The blanket has sold out multiple times, but thankfully, Ms. Berge has continued to replenish stock for those students still looking to acquire the most sought after item.
"I've had multiple students at my office door begging for the blanket. My heart broke when one young lady started crying because she didn't get the blanket before they sold out. I knew that I had to reorder them because I just didn't want to let the students down. I currently have them in stock but they sell quickly. If a student wants one for a holiday present, I would mention it pretty soon because I never know when a rush on the blankets is going to happen," warned Ms. Berge.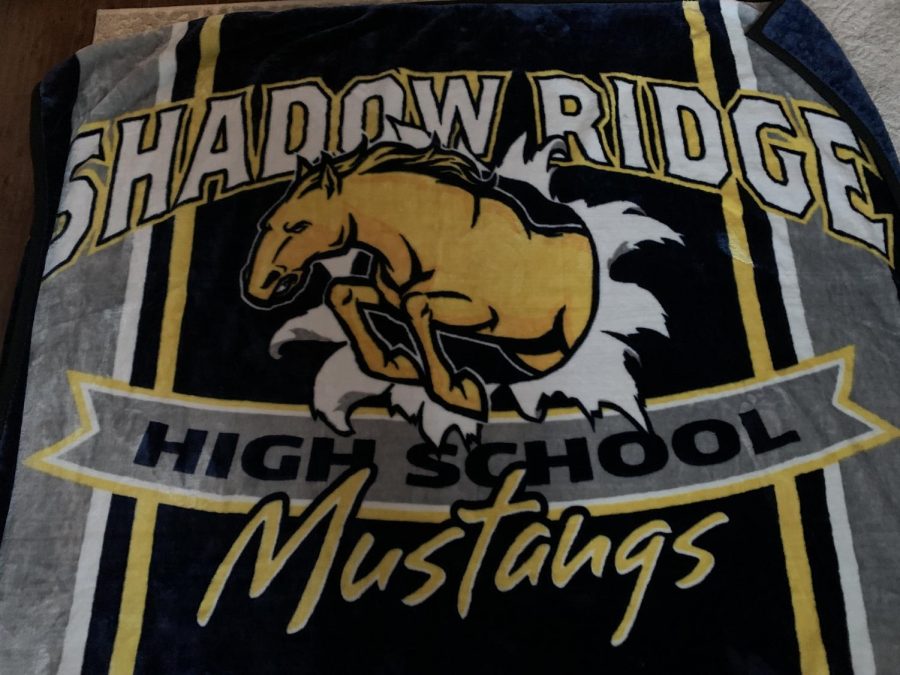 Ms. Berge said that she thinks that about 80% of all seniors have the Mustang blanket; the students have expressed that they want to take the blanket with them after graduation as a reminder of their happy years at Shadow Ridge. People could literally wrap up about 7 infants in that blanket if they needed to. It's that big.
It is important for students to remember, though, that they are not allowed to come to the school bank during class time. Ms. Berge is available to sell this wonderful merchandise, before and after school, as well as during all three lunch periods.