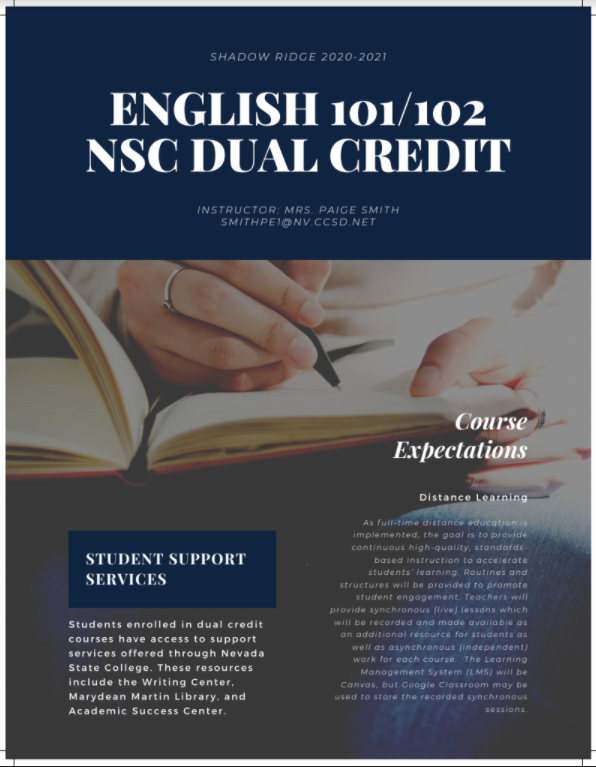 Dual Credit ENG101/ENG102
The overall objective for ENG 101/102 is for students to emerge competent to complete a variety of writing assignments they might encounter in the college setting while also becoming more aware of their own writing strengths, weaknesses, style, and goals. ENG 101 (Semester 1) will provide students with the opportunity to write both personally and publicly. We will explore nonfiction and fiction readings, analyzing not only message but also style, context, purpose, and societal impact. Students will write regularly,  both personal responses and shared pieces, moving from narrative to explanatory to argumentative. Students must be willing and prepared to engage in discussions about their own and others' writings with classmates and the teacher. As a peer writing partner, students are expected to share their thoughts on others' work in an honest, supportive, and instructive way.  ENG 102 (Semester 2) will build on the strategies used in semester 1, with more of an emphasis on academic research writing using different styles. Students will learn to evaluate sources, integrate them, and craft arguments well and academically. The semester will end with a culminating, in-depth research paper.
This class is offered to seniors and/or early graduates.
Teacher: Paige Smith [email protected]
Office Hours Google Meet: https://meet.google.com/gdw-mzxa-kyy?authuser=0