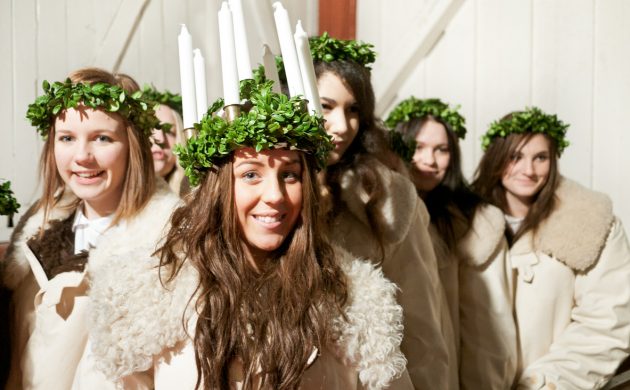 Photo Courtesy of Google Images
Sweden
Christmas in Sweden is celebrated by St. Lucia's Day on December 13. This day is celebrated by a girl dressing up in a white dress with a red sash around her waist and a crown of candles on her head. This is inspired by the story of a girl who would secretly bring food to imprisoned Christians in Rome in 304. She would wear candles on her head so that her two hands would be free to give food to the Christians. When celebrated, young kids wear electric candles on their head, but real candles are used frequently as well. The crown is made up of evergreen branches called lingonberry.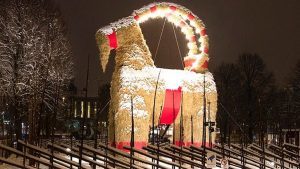 National Lucia's are chosen and go around to hospitals and elderly people's homes singing songs about St. Lucia. St. Lucia's Day is also celebrated in Finland, Denmark, Norway, Bosnia, and Croatia. It is also mentioned in Italy. Another important holiday the Swedish celebrate around Christmastime is the Yule Goat. The Yule Goat is a tradition from Finland that made its way over to Sweden, and is a giant goat made of straw. It is believed to be a spirit that makes sure all the Christmas preparations are going well. Around Christmas and the New Year, men will sometimes dress up as goats, sing songs at different houses, and play tricks on people. This is known as julebukking. 
The goat is also seen as a straw ornament that guards a house, and reminds everyone that Jesus was born in a straw manger. In the city of Gavle, a giant straw goat is built every year to start Advent. However, it is often a major target for vandals, and has only lasted 12 times throughout its start. In Swedish, Merry Christmas is God Jul, and in the northern parts of Norway, Finland, Russia, and Sweden, it's Buorit Juovllat.