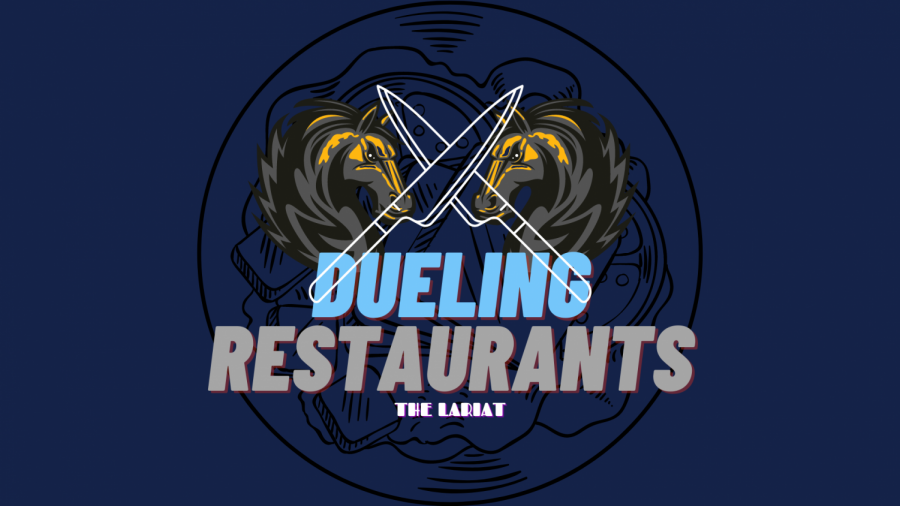 Dueling Restaurants
December 9, 2022
Mexican fast food has been sweeping the nation like wildfire. Many debate about which is better Cafe Rio, or Chipotle. With very similar styles of food and options, which one truly is better?
Which Mexican grill is better?
Sorry, there was an error loading this poll.
Café Rio
Café Rio is a Mexican grill that was founded in 1997 in St. George, Utah with other locations in Arizona, California, Colorado, Idaho, Maryland, Montana, Nevada, Utah, Virginia, Washington, and Wyoming. Café Rio has a menu that includes tacos, burritos, enchiladas, salads, tostadas, salsas, and desert items. Café Rio has a location on 6575 Decatur Blvd. right down the road from Shadow Ridge. 
When I went to Café Rio the environment was great. There were lots of colorful decorations and it smelled amazing. It was not busy and the staff was kind. There were about three people in front of me. One got a fairly big order and the staff handled it well. The menu looked delicious and had lots of options for anybody to choose from. First, customers are to pick what type of food they want like a taco, burrito, salad, etc. Next, customers pick their meat and toppings, then pay.
When I went to Café Rio, I got a shredded beef burrito with half white and half brown rice, pinto beans, house dressing, and Pico de Gallo. After tax I paid $11.91 and then was given my food. When I got home I immediately dug in. The first thing I noticed was the slightly poor burrito folding skills. I did have to eat the burrito with a fork because if I were to pick it up it would go everywhere. Apart from the burrito folding I have great things to say about the delicious burrito I ate. The homemade tortilla was so soft, fluffy, and amazing. I chose to put house dressing on my burrito which is cilantro lime vinaigrette, it was delicious and added a great creamy cilantro taste to the burrito. The dressing also had a very slight amount of spice to it which added a great tang. The beans were good, but nothing special. The rice had a great flavor, I do prefer the white rice as you can taste the lime a little more but the brown rice was also delicious. The Pico de Gallo had great flavor; the mix of the cilantro, onion, and tomato added a fresh element. The shredded beef is super juicy and has great flavor. The beef however was shredded but it was still slightly hard to get through because it was all stuck together.  
Overall the flavors were impressive and worked well together. The tortilla was worth every single penny. And the service was great and kind. 
I give Café Rio 9/10 burritos!

Leave a Comment
Chipotle
Chipotle is a Mexican walk up counter that offers tacos, burritos, salads, bowls, and quesadillas. Chipotle is known for its customizable food options making it ideal for every consumer to make it exactly how they like. Chipotle was founded in 1993 in Denver, Colorado.  The franchise spans all across the world with 2,966 locations and counting. Vegas alone can account for 21 of those. One of those locations being not far from Shadow Ridge at 6211 N. Decatur Blvd.
When I went to Chipotle I was impressed with my surroundings. They were warm and welcoming, not too busy, and the restaurant smelled very good. The line was not long at all with only one person in front of me when I went around 2pm. When I went to order the staff gave me their honest opinions about the choices and were very friendly. I walked up, ordered my burrito, paid, and left in under ten minutes which is perfect for the person on a lunch break time crunch or just looking for a quick meal. I paid $11.27 for my burrito after tax.
When I got to the counter I ordered a burrito with steak, pinto beans, half brown, half white rice, sour cream, and tomato salsa. I was quite impressed with their burrito folding skills as my burrito did not fall apart and was folded nice and tight. The tortilla was kind of thin and did not have much flavor, but it wasn't bad. The beans had good flavor but tasted like beans that can come from a can. The rice was good and the cilantro lime added great flavor to the burrito. The mix of the white and brown rice complemented each other nicely but I did prefer the brown rice as it picked up the flavors of the burrito better. The sour cream was kind of bland, but added a nice bit of sour tang to the burrito as well as helped cut the minimal heat of the salsa making it perfect. The tomato salsa was very good, it had a slight kick but it wasn't too spicy and had good juicy flavor and tasted very fresh. The steak was not my favorite. I can't lie it was kind of bland, very dry, and overall not the best I have ever had. Though I don't think Chipotle is anything special, I do think my meal was quite delicious and I would definitely go back.
Overall, the food was good, but not worth all the hype. The customer service was nice and the environment was also good. I was happy with my food, but it was fairly average.
I give Chipotle 7/10 burritos!

Leave a Comment