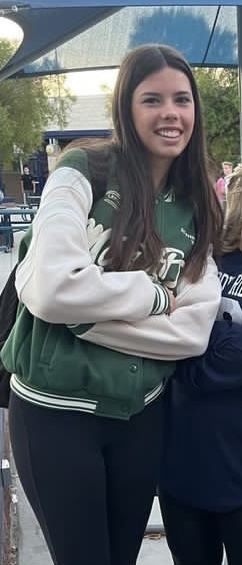 Photo Courtesy of Pastor Perez
Irene Pastor Perez – Spain
First, introduce yourself in a few words: 
Irene: My name is Irene and I come from Spain. I consider myself a very cheerful and friendly person, but above all empathetic, since I like to help others as much as possible. I love dogs and sports, and one of my favorite hobbies is watching my siblings play handball.
Why did you wanted to be an exchange student?
Irene : It was a proposal that my parents made me, but at first I wasn't very convinced, since I thought I was too young to come to another continent on my own without knowing anyone and speaking the same language. At the same time, I also had experiences of seeing other girls on TikTok and I felt that it was something that I wanted to try and that's when I decided to come.
How are you adjusting to America?
Irene : At first it was a bit difficult to adapt because everything was very different, I didn't like the food, it overwhelmed me when they didn't understand me. I felt that it wasn't me, because I forced a smile all the time that I didn't feel, but now everything has improved, I have met many lovely people and you could say that I don't want to go back to Spain.
How different is your country's education compared to America's?
Irene : In the US we only have 4 subjects per day and they are the same every week, but in Spain we have 6 subjects per day and the schedule is different all week, but they are the same throughout the year and there are 10 in total.
The time of entry and exit of the school is 1 hour later in Spain.
Throughout the year you have the same people in class with your same subjects and instead of rotating the students to other classes, it is the teachers who move through the classes.
What are some clichés that you found true or false about America? 
Irene : True: Sport are very important. Classes are very easy for Europeans. The flag is very important in the US.
False: That clothes, food, etc. are cheaper.  That everyone in the US is blonde.
What is your favorite American food? 
Irene: The hamburgers that my host family cooks. 
What did you do in your free time back home and what do you do here?
Irene: In Spain during my free time I used to go to watch handball matches, go out with my friends or be on my mobile. In the US I usually go to do activities with my host family, go for a walk with the dogs or go out with my friends.
What do you miss the most about your country? 
Irene  I really miss the food my grandmother prepares and the weather in Spain, but especially my family and friends.
What is something that has been harder than you expected? 
Irene: It has been very difficult to socialize with people my age, especially because I did not speak English very well.
What is something you like more in the US than in your country ? 
Irene:  What I like the most is that people give you compliments and smiles without knowing you at all, something that does not happen in Spain, because we usually stare very badly.