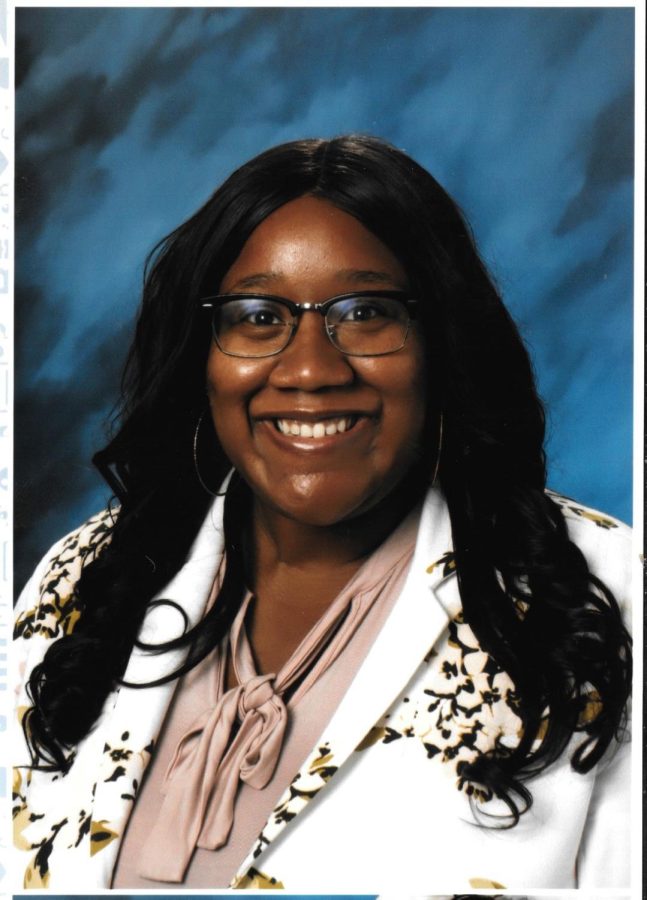 Mashelia Moore – Assistant Principal
What are you in charge of at Shadow Ridge?
As an assistant principal, I am in charge of the science department and the health office. In summary I ensure everything runs smoothly between the two departments. I also assist with supporting students that are having a difficult time in class or with other students. 
Which colleges/universities did you attend?
I have attended a total of 2 colleges: the University of Nevada Las Vegas and the University of Phoenix. 
How long have you been in education?
I have been in education for a total of 10 years now!
Why did you choose education?
I chose education because I was able to see my positive impact on the students. Originally as a volunteer, I realized I could make a more considerable difference as a classroom teacher. When my little sister Raevan was in kindergarten, I often visited her classroom and fell in love with the environment.
What drew you to Shadow Ridge High School?
Believe it or not, I am a Shadow Ridge alum and graduated from here in 2009. Getting to come back to high school that helped mold me into the person I am today has been a full circle moment for me. The opportunity to grow as an educator and school leader to have an impact on students I had at Triggs Elementary and be an inspiration for others to show them what they can accomplish.
What was your first impression of Shadow Ridge?
My first impression of Shadow was amazement in how much it has changed physically since I graduated. From the Mustang in the courtyard to the beautiful "defend the ridge" painting above the cafeteria, it dramatically shows the school spirit. 
What do you hope to accomplish while at Shadow Ridge?
My vision at Shadow Ridge is to be a face that the students, teachers, parents, and the community can get to know. I want everyone to know that I am here for support when they need assistance. My main goal is student success, and I will actively participate in the school community to achieve that goal. 
What is your favorite part of your job?
My favorite part of my job is working with the amazing staff we have here at Shadow and getting to know the students on campus. Plus, being a brand new Assistant Principal has allowed me to strengthen my knowledge in education. 
What do you enjoy doing in your free time?
I enjoy traveling, reading many genres of books, going to escape rooms, and hanging with my family and friends. 
What is your favorite movie?
My favorite movie has to be a triple tie between Jurassic Park, Harry Potter(series), and Beauty and the Beast; it brings back fond memories of when I was young! Plus, the dinosaurs are cool. Go House Gryffindors!
How often do you read The Lariat (the school newspaper)?
When I was a student at Shadow, I read the lariat often, and now as an assistant principal, I read it even more. 
What are you most excited about for this school year?
I am most excited about bringing a new yet familiar name and face to the campus and showing everyone how much I love education and my passion for helping students succeed.