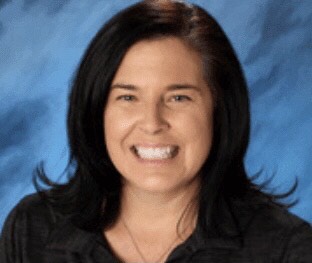 Photo Courtesy of: Mrs. Kannon
Traci Kannon – Principal
What are you in charge of at Shadow Ridge?
As the principal, my role is to ensure that all aspects of the school are running smoothly, and that everyone is supported in their role, be that a student, teacher, or staff member. I am the school's biggest cheerleader (I actually was a cheerleader in HS) and help support all of the awesome things that are going on at Shadow. I am humbled to serve in this role.
Which colleges/universities did you attend?
I started college at University of San Diego, then transferred and graduated from San Diego State. I got my teaching credential from Cal State East Bay and my Masters Degree from the University of Phoenix.
How long have you been in education?
25 years.
Why did you choose education?
In college I was a nanny and it was then that I realized that I loved children, and pursued a degree in teaching (my major was Liberal Arts). I was a teacher for 15 years before becoming an administrator.
What drew you to Shadow Ridge High School?
When I saw that there was an opportunity to serve at SRHS I jumped on the chance as I had always heard great things about the school, the teachers, and the pride that the community takes in this school. I am a believer in public education and really love a comprehensive school setting as it provides the best choice for students to pursue all aspects of school they are interested in, be it CTE courses, advanced courses, sports, or the arts. We have it all here at SRHS.
What was your first impression of Shadow Ridge?
I thought it was awesome!! Loved the pride that was taken in the school. Loved all the spaces for students. Loved everything about it!
What do you hope to accomplish while at Shadow Ridge?
I hope to be a small part in what makes this school special. I want to make sure that students leave here ready and able to reach for and accomplish their dreams.
What is your favorite part of your job?
I really like spending time with the students and staff.  The students are the heartbeat of the school and the teachers and staff are the backbone.  I want to support each group so they can be the best they can be.
What do you enjoy doing in your free time?
Free time….not exactly sure what that is.  🙂  I love to cook, get outside, and spend time with my kids when I can. 
What is your favorite movie?
Peanut Butter Falcon!!!!
How often do you read The Lariat (the school newspaper)?
Every week. I link in my weekly parent communication and am so proud of the work they do!
What are you most excited about for this school year?
The first football game, the first pep rally for starters. Watching the students grow and thrive is exciting. Watching all of the students find "their place" is fun.