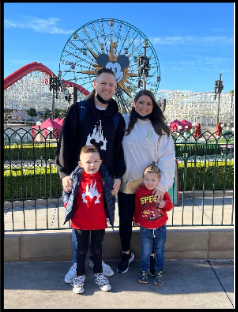 Roxane Thomas – Assistant Principal
What are you in charge of at Shadow Ridge?
Activities, CTE and Student Discipline 
Which colleges/universities did you attend?
UNLV and GCU
How long have you been in education?
I graduated from UNLV and started my teaching career 9 years ago, in 2013. 
Why did you choose education?
I had great teachers growing up and was involved in a lot of clubs and activities when I was in school. I originally majored in architecture, but switched to education when I realized how much happier I would be recreating the positive experience I had during high school for others. 
What drew you to Shadow Ridge High School?
I loved that students at Shadow Ridge like to participate in school events! 
What do you hope to accomplish while at Shadow Ridge?
I have two major goals. One, is to support club advisors so they can get more students involved, and the second is to support our CTE teachers so we can increase the number of students who earn certification in their programs.
What is your favorite part of your job?
My favorite part of Shadow Ridge is that I get to collaborate with such amazing people. Shadow Ridge has the best teachers and staff!
What do you enjoy doing in your free time?
I like spending time with my kids and family. I have two boys; Carson is 6, and Paxton is 3. 
What is your favorite movie?
Iron Man!
How often do you read The Lariat (the school newspaper)?
Every time it comes out!
What are you most excited about for this school year?
I am most excited about Homecoming! It is my all time favorite time of the year!