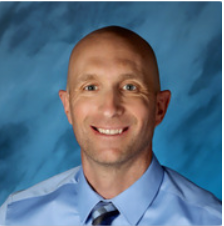 Aaron Olson – Assistant Principal
What are you in charge of at Shadow Ridge?
Athletics
Which colleges/universities did you attend?
University of Wisconsin Eau-Claire and UNLV
How long have you been in education?
18 years
Why did you choose education?
To teach and mentor the youth
What drew you to Shadow Ridge High School?
Great School Environment with Awesome Spirit
What was your first impression of Shadow Ridge?
Lots of school pride
What do you hope to accomplish while at Shadow Ridge?
Help Shadow Ridge students have a positive experience.
What is your favorite part of your job?
Interacting with students.
What do you enjoy doing in your free time?
Running, fishing, and playing chess
What is your favorite movie?
Tombstone
How often do you read The Lariat (the school newspaper)?
Every time it comes out
What are you most excited about for this school year?
Watching our sports and activities excel.