BTS Causes Chaos in Las Vegas
April 24, 2022
BTS put on their final concert of their lastest tour last week in Las Vegas. Two Lariat journalists were at the concert to give their reviews to eager Shadow Ridge fans.
Las Vegas Doesn't Need Permission To Dance
On April 8 through 16th of this year Las Vegas saw one of its biggest events yet. BTS held their Permission to Dance: On Stage concert at Allegiant Stadium. The stadium was nearly sold out for each show, and the Las Vegas Strip was lit up the color purple throughout the days.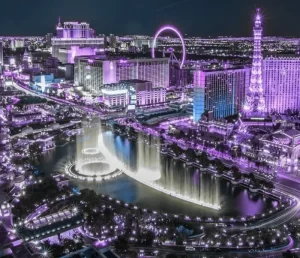 When the citizens of Las Vegas heard about this concert, they rushed to get seats. Many students from Shadow Ridge were among those rushing to get tickets. The concert also drew ARMYs (BTS' fandom name) from all over the world. According to Billboard, "the in-person portion of the four-show stand was attended by around 200,000 people, while the number of online viewers who dialed in to the livestream reached around 402,000 in 182 countries/regions on the concluding day on Saturday."
Las Vegas was BTS' final show on their tour.  
Shadow Ridge's very own, junior Harmony Krider, went to the BTS concert. She says that the lines went faster than she thought they would, however the merch line was long. "Halfway through we found out that they only take card and we only had cash on us," says Krider, "so we made friends with a nice lady and she bought us the merch and we just paid her back in cash." This is truly a showcase of ARMY hospitality. "She basically treated us like her kids the rest of the concert," says Krider.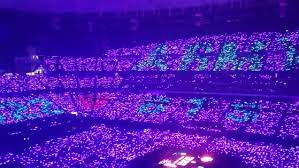 At the concert the screen broke before the start. Krider and her friend's had lots of energy at that moment because it seemed like the concert was about to start. "Our hearts were beating so fast it wasn't even funny." They weren't bored but they were nervous when the screen broke. "Doing the cute little ARMY bomb wave did help us calm down," Krider remembers. When the concert started Krider was excited and screamed for every member.
During the concert, BTS performed a total of 22 songs. They opened with ON and closed with Permission to Dance. 
While the first show was delayed due to technical difficulties, the second night ran smoothly. On the second night, media attended. According to Consequence, the concert running so smoothly is "no small feat, considering the show's generous use of fireworks, pyrotechnics, elaborate video screens and big setpieces, such as a moving platform and balloon-filled trollies." 
The concerts were a magnificent event for BTS fans and Las Vegas. Truly a moment that can only be described as epic.
Emma Bennett
Leave a Comment
Permission to Dance: Las Vegas!
This past week, following their Grammy appearance, world famous K-pop group, BTS, came down to Las Vegas for their highly anticipated "Permission to Dance on Stage: Las Vegas" concert. The concert was a 4 day event held in newly built Allegiant stadium, taking up the 8th, 9th, 15th, and 16th. With over 200,000 fans in attendance, the concert was a hit! And some of Shadow Ridge's own students enjoyed the show as well!
"
There's so much diversity in the ARMY[…]. It was was very nice place to be.
— Katie McDowell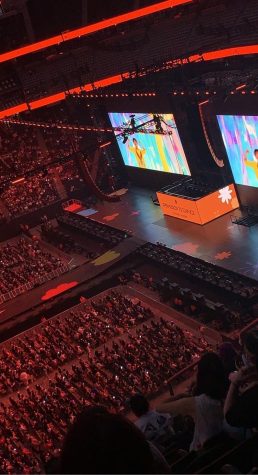 "The performances were so good," says junior Katie McDowell. "The backup dancers were amazing, all the members of BTS having amazing stage presence, and when not singing, they would talk to us and it was a very fun experience!" And of course, being a BTS concert, the energy was immaculate! "The energy in my section was very loud, chaotic, and fun," says McDowell. "We were all so excited to be there and everyone I met was super sweet. There's so much diversity in the ARMY, (BTS' fan base) people of all ages, sexualities, color, etc."
"The energy in my section was ecstatic! We were all laughing and singing and crying!" says sophmore, Layla Brumfield.
The concert featured pyrotechnics, thousands of streamers, confetti cannons, balloons, and BTS even traveled around the stadium. During their concert, the members split up into smaller groups, and got into carts filled with balloons and traveled around the stadium. The fans seated near their carts path were able to get up close interactions with the members. This is something that is done often during their concerts, the members being in various traveling objects. Back in 2017, the group could even be seen in small hot air balloons that floated around the stadium.
The group performed many songs, all of which were fan favorites. "My favorite song was HOME," says Brumfield. "Honestly, I wasn't expecting to say this, but my favorite song was Permission to Dance," says McDowell. "It was a very bittersweet moment of closing out the concert with that song." The group also performed their English hits Butter and Dynamite as well as some of their Korean tracks such as Fake Love, ON, and Blue and Grey.
As are many things with BTS, it's go big or go home! Not only did BTS take up all of Allegiant stadium, they also used the MGM Grand for a live viewing of the concert. The concert in the Allegiant was being streamed to the MGM Grand in real time, so fans could enjoy it there as well!
Many fans treat BTS concerts and events as a fashion show, and as they should. ARMY take this time to dress up and show their support of the group. "Of course I dressed up!" says Brumfield. "I had on a black skater skirt with a white shirt and a pink jacket with rainbow accents." When at a BTS concert, concert goers can be sure to see a lot of ARMYs in dresses, skirts, heels, dress shirts, and lots and lots of purple, the color being adopted by BTS in 2016 as their official color.
Leave a Comment