Orchestra
The Shadow Ridge High School Orchestra, which has been a part of Shadow Ridge High School for the last 17 years, is currently led by Mr. Edward Richards, who has been stressing dedication and hard work to his students.
"I like Orchestra because all of my best friends are there. We enjoy playing music together and enjoy making music together," says Julian Martin, a junior in the advanced section of the orchestra.
The orchestra class performs an average of three concerts a year; their Halloween, Winter, and Spring concerts. Orchestra also heavily prepares for the "festival season" which takes place towards the end of the school year. Students learn 2-3 new songs for every concert, and they work to perfect these songs to ensure they are performance-ready. Students in the advanced and chamber sections of the orchestra are the ones who go to festivals every year. All groups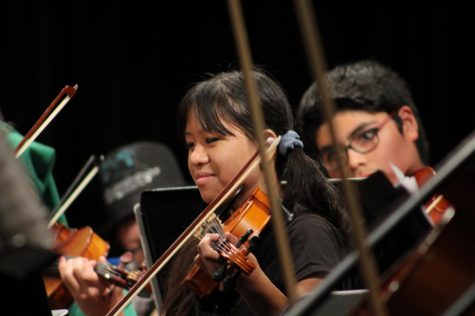 can perform in their concerts, but only those two groups may attend.
"Orchestra is a very fun elective with a welcoming environment and interesting work material each quarter," adds sophomore Alyssa Greer, who is already in the advanced class despite being younger than her peers.
There are four levels to Orchestra, starting with Beginning, then to Intermediate, Advanced, and finally Chamber. Each group of the orchestra learns new things related to the instrument they are learning to play. In Beginning, students learn the basics of their instruments, for example, what the strings are, how to play each note, how to hold their bows, and so on. Then, Intermediate prepares students even more. Students in Intermediate learn scales, more complicated pieces, and some can even learn how to shift on their instrument, as well as vibrato. The Advanced class guides students into Chamber, almost like it's practice. Students in Advanced learn two-octave scales and more complicated fingering. Chamber is the highest group a student can get to. Students in Chamber learn very hard pieces and play notes that other students could only dream of. Incoming freshmen don't have to go in this order, if they took part in their orchestra program for middle school, they have the option of going into Intermediate or Chamber when they start high school.
"Of course I'm going to keep taking the class. I have fun there, and I play music I never thought I would be able to play," said junior Jeremiah Wright, who's been in the course the past two years, and is looking forward to being in Chamber for their junior year.
Orchestra teaches all of the students involved the value of hard work and dedication. From Beginning Orchestra to Chamber, all students learn valuable life skills that some classes won't teach them. All students who want to learn to play instruments can do so in the safe environment that the class offers. Every student in the class respects one another and Mr. Richards.