E-Scooters: The New Tesla?
E-scooters have been a prevalent device for travel in recent years. In larger cities, scooters sit on their charging posts on sidewalks, waiting for someone to download their app and take them for a ride. They already are the new subway system, using much less gas and pollution, but is it possible that they are the new Tesla?
Of course, the giant gap between the two is the use of sidewalks vs roads. Cars, obviously, drive on roads, where scooters drive on the sidewalks. But they're about to get a lot more similar than just being modes of transportation. 
The reason that electric scooters have not been used to their full potential is the possibility of collision. They have been banned in Spain, France, and Singapore, where the problem of injury has become so severe. There was a poll held in Washington DC asking if electric scooter users have been injured during their rides. An astonishing 65% who were surveyed showed that they had encountered injuries and/or very close calls for collision. A Sweedish E-Scooter company, Voi, has invented new technology on their scooters to make them safer for the streets. 
The new technology, a small camera on the handlebars of the bike, can see the path in front of it. Using matching technology, it classifies the surrounding environment of the rider. With this programming, the scooter can react in a plethora of ways. 
"It could slow down its speed as the rider goes up on a sidewalk; it could reduce the speed if it detects pedestrians in the pathway," says Shahin Ghazinoiru, Vice President of Hardware Engineering at Voi. "It could give audible warnings to both the rider and the surroundings if the technology detects behavior that we feel is unsafe." 
During a test trial that started in November of 2020, Voi workers test rode their own scooters. Over 90% of the obstacles were identified correctly, and the scooters were able to avoid contact. Voi expects the second phase to start in the next few weeks, where the scooters will be launched in Northampton for customer use. Andrew Fleury, a CEO of Luna Scooters, says that the programming can be adjusted for any environment and any city, with images uploaded to the internet as their guide.
Cities are being urged to introduce new e-scooters for customer safety. Berg Insight, a market research firm, thinks that there will be 4.6 million shared e-scooters in operation worldwide by 2024, up from 774,000 at the end of 2019.
View Comments (1)
Your donation will support the student journalists of Shadow Ridge High School. Your contribution will allow us to purchase equipment and cover our annual website hosting costs.
About the Contributor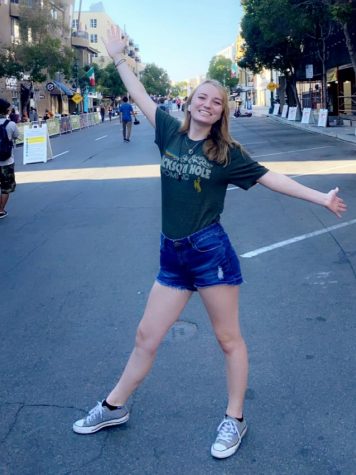 Alexis Scott, Journalist
In the tenth grade at Shadow Ridge is the energetic student, Lexi Scott. Her hobbies include hiking, offroading, driving, singing and playing instruments...