Kudos to the Okuda Sisters
Many Shadow students have older or younger siblings that attend the same school. The Okuda sisters have all spent their years at Shadow running track and cross country. 
Kennedy Okuda, the oldest sister, graduated this past year but spent all her 4 years running. Leah Okuda is a junior this year and has also participated since freshman year. Their youngest sister, freshman, Elynn Okuda has ran with her sisters for fun but started competing at Shadow this year. These sisters have made many great accomplishments in their years running. 
"
It has been really fun being able to run with my sister and do cross country this year together. We are both pretty competitive and both love to run.
— Elynn Okuda
Leah said, "Running with sisters helps keep me motivated and keeps me from slacking! They push me to be my best self not only at practice, but at home and in school."
The Okuda girls are not the only ones in their family who enjoy running. Their whole family participates in runs on special occasions.
"I've been running with my family since I was little," Leah says. "My dad had a running club welcoming kids from about kindergarten to 8th grade and we would train to run 5ks on the Fourth of July and Thanksgiving. I've been running competitively since freshman year."
Elynn adds, "I've been running since I was about 8 or 9 in a running group that my dad started. I ran track in 6th-8th grade and this year."
The Okuda family all taking part in running is a great way to get out of the house, stay active, and spend time together. Running is such a fun and great sport but it can also be very difficult. Personal and team issues are what contribute to track and cross country being mentally and physically challenging.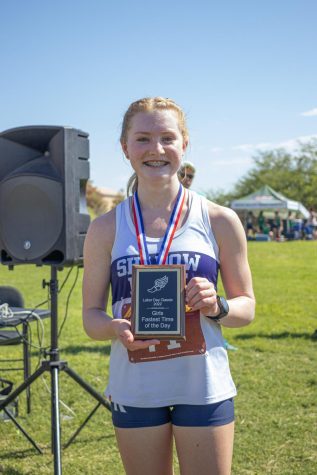 Elynn says, "Running is one of the hardest sports both mentally and physically. It can be hard not getting the time that you want or being passed by someone who is usually slower than you. There are also injuries to deal with that can take months to heal. But if you can get out of your own head and push past the pain it really pays in the end."
Leah also faces some of the same challenges as her sister. She said, "Some of the challenges I face as a runner include mental walls, a lack of sleep, a lack of time, lazy teammates, injuries, and a lack of motivation."
So many different possibilities and outcomes bring a great level of commitment to this sport. Luckily the Okuda's enjoy running and all the good and bad times that come with it. These sisters have already had so many great accomplishments and can't wait to continue running and see how far it can take them.