School's Out for Covid
On Jan. 11, 2022, CCSD, following Covid-19 Quarantine and Isolation Guidance, announced through the local news that schools across the Las Vegas valley were to be closed on Jan. 14 and Jan. 18, 2022, over the MLK holiday weekend. The ongoing Covid-19 circulation caused many teachers to be absent and in quarantine which spiked the need for substitutes; however, there weren't enough substitutes to cover all of the absent teachers. This "five day pause" was said to give teachers time to restore their positions and provide a healthy learning environment for students upon return.
The new Covid-19 variant, Omicron has been spreading all over the world affecting professional and education establishments as well as everyday life. This variant mimics cold symptoms very closely and is one of the most transferable variants of Covid.
Due to the country being short staffed in all areas of work, the CDC was forced to reevaluate quarantine duration periods. Instead of the orginal 10-14 day isolation period, it has now been reduced to at least five days of isolation followed by an additional five days of wearing a mask everywhere.
According to CDC Director Dr. Rochelle Walensky, "Not all of those cases are going to be severe. In fact, many are going to be asymptomatic. We want to make sure there is a mechanism by which we can safely continue to keep society functioning while following science."
After winter break in early January, in regards to CCSD, students and teachers alike fell ill with, or were exposed to the virus more so than usual; right around the time Omicron was first detected in Nevada. As a result, safety precautions had to be met until people were cleared to go back to their schools.
According to the Las Vegas Review Journal, "On Wednesday [Jan. 12, 2022], the district logged 1,323 employee absences — below the average of 1,396 for this school year. It's a significant drop compared with the 1,826 to 2,147 workers who were out daily from Jan. 6-11."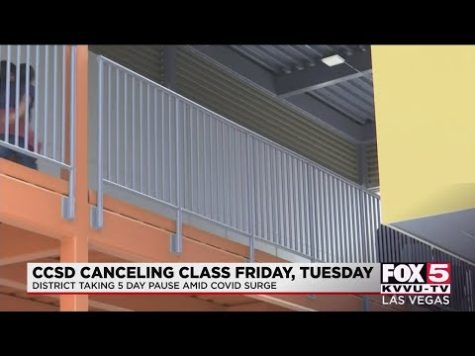 Because work rates for educators in the valley dropped after winter break, the need for substitute teachers and teachers covering other teacher's classrooms skyrocketed. Many students returned to school to find their classrooms moved or being covered by long term substitutes.
High school senior Aiden Passarge said, "I was moved to a new classroom with a new teacher for English and it really started affecting my learning. I've been with this sub since break ended and I've noticed that getting school work done and getting proper directions for assignments has become harder."
When school returned on Jan. 19, attendance for substitute teachers, teachers, and students alike showed higher recorded numbers than before the pause proving that the five day pause was beneficial to the district.
"On Jan. 19, there were 1,323 staff absences with a substitute fill rate of 25.4%. On Jan. 20, it was 1,335 staff absences with a higher fill rate of 29.4%," according to Fox 5 News. "Student attendance also rebounded with 84.2% attendance Jan. 19; 85.97% attendance Jan. 20; and 84.31% attendance Jan. 21."
The two days CCSD canceled over the holiday weekend will be made up in the following months replacing previously scheduled Staff Development Days with full learning days. These dates will be Feb. 7 and April 25, 2022.