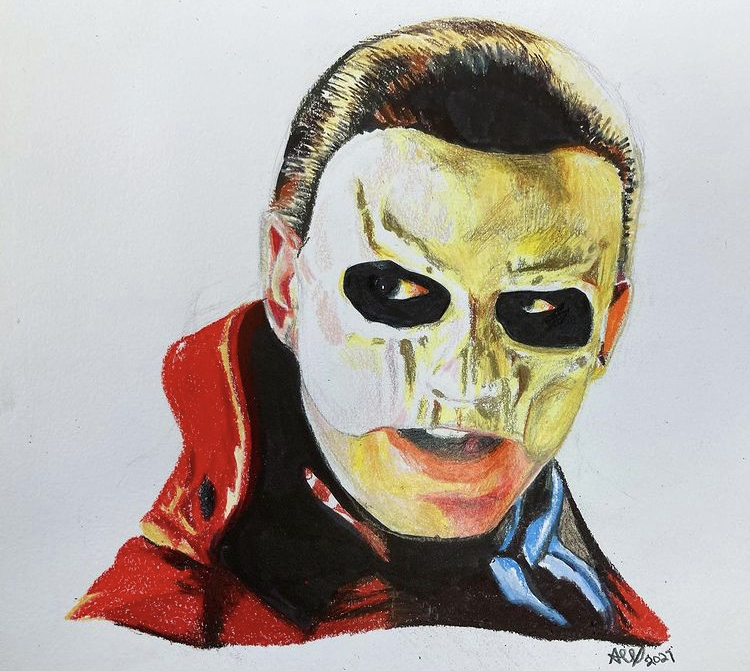 Courtesy of @artbyaudrey246
Audrey Davis was working on an art piece when her phone lit up with a notification. Someone had commented on the most recent post on her Instagram art account. What Davis didn't expect when she opened her phone, was a blue verified check next to the username of the account who had commented. The official Phantom of the Opera Instagram account had commented on her drawing of the Phantom. "Wow, this is fantastic," they wrote. Those four words written on Davis's post changed her entire perspective of her art account and on who she could reach with her artwork. 
Davis is a freshman in Drawing II at Shadow Ridge High School. She uses her art account (@artbyaudrey246) to share her artwork that consists of detailed graphite portraits, paintings, and other various drawings. Davis started the account on September 6, 2020 and now has 160+ followers. 
"I wanted to share my art on the internet and used it as a motivation to always do my best on my works of art because I would be sharing it with hundreds of people that I don't know," Davis states.
She mainly posts graphite portraits of various celebrities drawn in black and white. Her "Inktober" drawings are also popular on Davis's art account. 
Before she started her art Instagram account, Davis showcased her art skills through extravagant drawings on birthday cards, gifts of drawings for her friends and family, and art displays at her middle school's performing arts concerts. She is part of a line of artists within her family. Her great grandma is a painter known for her beautiful oil paintings of landscapes. One of Davis's grandpas is also skilled in oil paintings and her other grandpa is talented in charcoal drawings. Davis's father was a great artist in high school and has continued to use his art skill to entertain his children as well as create art to display in the house. 
"Some of the greatest help for my art is all the support that I get from my family and friends," Davis says. "I love seeing their reactions to the things that I've drawn and they always give me the best tips on how to continue getting better."
She practiced and refined her art skills in art electives classes all through middle school. The time to practice during school with art teachers available for help is what Davis considers to be most beneficial to her improvement in art. 
Mr. Weigand, Davis's drawing teacher, remarks, "Audrey Davis is an excellent art student in Drawing II and shows initiative beyond the usual means of attention to detail and care for her projects and assignments. She is very creative, skillful, intuitive, dedicated, and focused in her pursuits in art."
Her latest focus has been on learning how to draw digital artwork after getting the digital art app "Procreate" for Christmas. She is still getting used to the new art process, but is enjoying the perks of being able to zoom in on her artwork and add color more easily.
While she is determined to get the hang of digital art, her main focus still lies in portraits. She has many famous actors and people in mind that she wants to draw including Owen Wilson. Davis has attempted multiple times, but can never find a reference photo that's just right.
Davis expresses, "I want to draw the Owen Wilson and I want to draw it so well that Owen Wilson himself tells me 'wow.' That is my ultimate goal."