Carroll of the Bells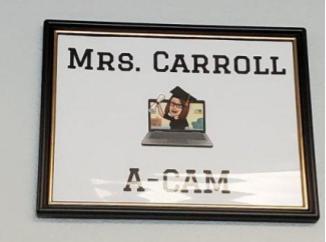 Counselor, Natascha Carroll is currently a counselor at Shadow Ridge; she has been a counselor for 8 years and she stated that counseling is her passion. One of her favorite things to do as a counselor is to have many conversations with students and watching a student evolve after taking the suggestions she suggests to them.
"There are lots of reasons for students to come check with me, like students wanting me to help them check their grades or staying on track with their assignments," Carroll said.
A counselor's job is to usually show the progress of students in how far they are doing and what class track they are on. Carroll likes to show students and tell them what steps they should take to prepare for their futures. Mrs. Carroll recommends employment opportunities and career paths.
"Social emotional issues are something that students are struggling with and don't quite know how to deal with, so they come in to get some advice on what they should do to deal with it," Carroll said. "The hardest part about being a counselor is feeling like I can't do enough. Sometimes students should see a therapist off campus because they are dealing with a lot of things emotionally and some parents don't believe that to be true."
Carroll cares deeply for the students she talks to. If anyone tries to go up to her for advice and needs to talk about any problems that they have, she gladly talks to people about it and tries her best to help them out.
Senior, Ellie Belt also has Ms. Carroll as her counselor and enjoys having chats with her when she is in need. 
"
I would have became an art teacher instead, but my art teacher in college told me I wasn't good at it."
— Natascha Carroll
"Ms. Carroll always wants to help me be successful in everything I do, and when I need help she's always there to give her best advice," Belt said.
Mrs. Carroll is the best person to go up to for people who are in need of help with work, or emotionally need advice about their problems. Mrs. Carroll is usually in her office hard at word, but she always tries to make herself available when students are in need.
Carroll originally planned on becomeing an art teacher once her art teacher discredited Ms. Carroll's word. Once Carroll decided on becoming a counselor, she made it her personal mission to never discourage a student about anything they were passionate about.